Judge accepts that presenter plays a 'persona' of herself on her eponymous show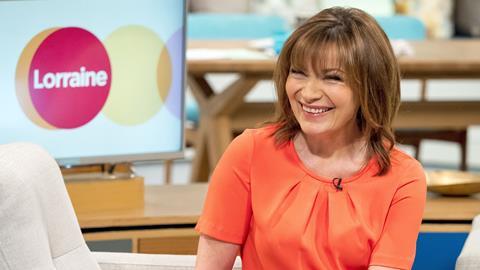 ITV daytime presenter Lorraine Kelly has won a £1.2m tax battle with HMRC after a judge ruled she was "playing a persona of herself" on her eponymous show.
In 2016, the Lorraine host was served with a bill for £900,000 income tax and £300,000 in national insurance contributions, having saved on the tax payments by being paid through a Personal Service Company (PSC) she ran with her husband from 2012.
She appealed and the case was taken to a first-tier tax tribunal yesterday.
HMRC argued she was employed by ITV from 2012-2016 and therefore liable for the tax payments, but judge Jennifer Dean ruled that the relationship between Kelly and ITV was a "contract for services and not that of employer and employee".
Kelly fronted Lorraine and former ITV morning offering Daybreak during the four-year period.
"We did not accept that Ms Kelly simply appeared as herself," said Dean, issuing her ruling.
"We were satisfied that Ms Kelly presents a persona of herself, she presents herself as a brand and that is the brand ITV sought when engaging her.
"All parts of the show are a performance, the act being to perform the role of a friendly, chatty and fun personality."
An HMRC spokesman said the government department was "disappointed" with the ruling.
"We will carefully consider the outcome of the tribunal before deciding whether to appeal," he added.
The case is the first high-profile PSC ruling outside of the BBC, concerning an issue that has sparked controversy for the corporation over the past year or so.
HMRC has been cracking down on similar cases since a change in IR35 tax law at the turn of the decade and last year former BBC Look North presenter Christa Ackroyd was forced to shell out more than £400,000 in unpaid taxes.
Around 100 more BBC presenters have been or are in the process of being investigated for unpaid tax.
The BBC has also been hurriedly placing freelancers on its books in line with HMRC's new Check Employment Status for Tax definition, which will soon apply to private companies like ITV – although chancellor Phillip Hammond used his recent budget to delay this change to April 2020.
BBC director general Tony Hall recently apologised for historically coercing staff into setting up PSCs.
Kelly's win comes days after she accepted an RTS Award for outstanding contribution to British television.