Kodak has unveiled a prototype of a new Super 8 camera as part of the company's efforts to revive the 50-year old film format.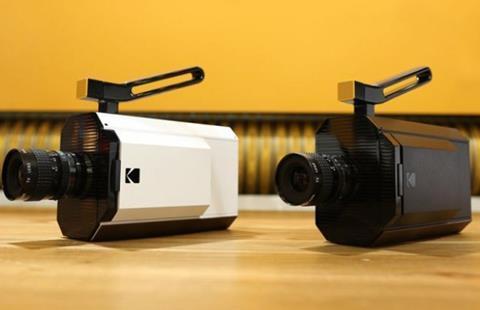 On display at CES in Las Vegas this week, the camera (pictured) "combines the classic features of a Super 8 with digital functionality," Kodak said.
The camera unveiling is the first stage of Kodak's 'Super 8 Revival Initiative' which Eastman Kodak chief executive Jeff Clarke described as "an ecosystem for film" that will include the launch of more cameras, film development services and post production tools.
"Following the 50th anniversary of Super 8, Kodak is providing new opportunities to enjoy and appreciate film as a medium," Clarke added.
The announcement was welcomed by a host of Hollywood directors, with Steven Spielberg, Christopher Nolan, JJ Abrams and Quentin Tarantino among those who praised the move.
Retro design
The original Kodak Super 8 camera was introduced in 1965.
Kodak worked with designer and Fuseproject founder Yves Béhar as part of its efforts to make sure its latest device echoes the look and feel of the original cameras, while adding a "modern sensibility".
Béhar added: "Kodak has always represented innovation that is approachable while delivering the craft of filmmaking.
"Our design aspires to express both these ideals. We are designing the Kodak Super 8 camera with robust materials and new ergonomic features to serve the needs of Super 8 fans, whether shooting action or static scenes."