Arsenal FC, Liverpool FC and Manchester City have installed a 38 x 5K volumetric camera setup in their stadiums, enabling Matrix style replays from any angle and from the perspective of any player on the pitch.
Each of the clubs teamed up with Intel to spec out and create the system – called Intel True Vision – which involves installing the cameras in strategic locations (pictured below) in Emirates Stadium, Anfield and the Etihad Stadium.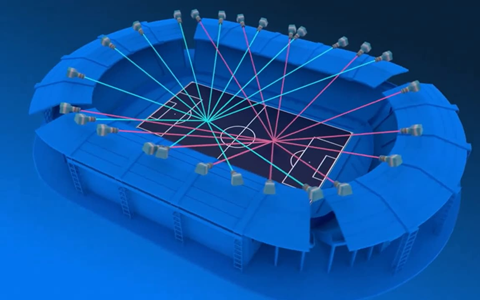 Rather than traditional camera images, the 38 cameras record height, width and depth of data to produce voxels (pixels with volume).
The huge amount of data captured is processed on-site in a server room at the stadium kitted out with racks of Intel processors. The server rooms process more than 200TB of raw data per match. All the viewpoints are then re-created, creating fully volumetric 3D players in a virtual environment.
The immersive scene can then be spun around and viewed from any angle and perspective, providing a very different look and feel for replays and eye-catching imagery as players run up to take a penalty or make a goal-line clearance.
The Intel True View setup is already in use by the NFL and NBA, as well as by six clubs in La Liga. These are the first installations in the UK.
Each immersive 360-degree replay takes around 30-seconds to create and distribute so can be incorporated into live Sky Sports and BT Sport Premier League game broadcasts. Post-match, they open up a huge range of options for immersive highlights for the clubs' official website, mobile apps or social media highlight reels from all conceivable angles.
Peter Silverstone, commercial director of Arsenal FC, said: "The technology effectively allows a supporter to step into the boots of players and see the game from their perspective. We are always looking to find new ways to bring our fans and followers around the world closer to the action and this partnership will give them a whole new view of the game. We have seen the impact this Intel technology has had in other sports leagues across the world and are excited that it will be installed at Emirates Stadium.
For daily broadcast sports stories, covering sport production, distribution and tech innovation, visit Broadcast Sport and bookmark the Broadcast Sport homepage, http://www.broadcastnow.co.uk/sport
Billy Hogan, chief commercial officer of Liverpool FC, added: "Intel True View has the power to add a new depth to match highlights, which can significantly improve the supporter experience. This technology has the potential to add a new dynamic to how people interact with the game."
Damian Willoughby, senior vice president of Partnerships at City Football Group, said: "We are delighted to pioneer this game-changing technology at the Etihad Stadium. We are sure City fans, and football fans around the world, will love watching beautiful football from every angle."
The Intel True View system will kick off in Premier League home games for these clubs from 10 March.
Intel True View – what it provides
Multi-angle views of a play: Intel Sports' volumetric video process creates 360-degree replays and highlight reels from every angle, using 38 5K ultra-high-definition cameras.
Laser wall: A virtual plane giving fans a clear picture as to where players are positioned on the pitch.
'Be the player' capabilities: Intel True View freezes a moment in the match to let fans see the pitch from the eyes of a player. This enables pundits to share a new level of insight into the tactics and decisions made by players.