A serious fire has caused major damage to outside broadcast firm NEP Visions' Berkshire base.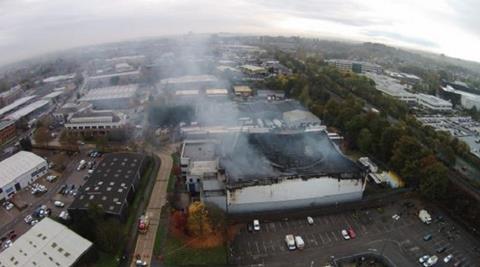 No one was hurt in the blaze which broke out at the trading estate in Bracknell last night.
Firefighters spent the evening tackling the fire which caused the building's roof to collapse.
Firefighters are expected to remain at the site until mid-day.
The level of damage caused to the company's flypack kit and OB vehicles is not yet known.
The company is expected to release a statement shortly.
The cause of the fire is under investigation, the fire service said.
NEP Visions is one of the UK's largest supplier of OB facilities. It operates a fleet of 20 trucks and "extensive" HD OB flypack kit.
The company's credits include football and rugby World Cups, host facilities provider to the Asian Games, Premier League and Champions League football coverage.
Its flypacks have been used on six Olympic Games and for a live 4K broadcast of War Horse for the National Theatre.
NEP Visions is part of the US-based NEP Broadcasting group of companies.
Update: In a statement, NEP Visions confirmed that its OB fleet was damaged as a result of the fire, although it did not say to what extent.
The company said it would work with other divisions in the NEP Group, which includes Bow Tie Television, OBS TV and Roll to Record as well as a host of European OB firms, to make sure that forthcoming shows and events continue "without disruption".
"NEP Visions is very grateful for all the messages of support it has received from clients, partners, competitors and the wider broadcast industry," the firm said.