Mythbusters was one of Discovery Channel's longest-running hits, conducting 2,950 experiments with 910 explosions and using 83 miles of duct tape over 282 episodes, across 15 series.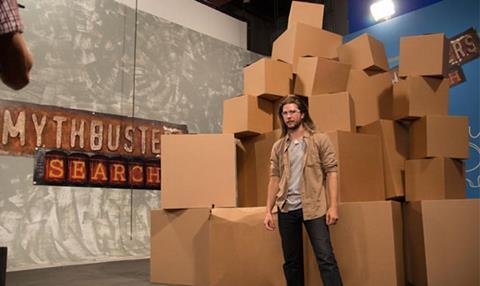 MYTHBUSTERS: THE SEARCH
Distributor Beyond Distribution
Producer Beyond Productions
Length 8 x 60 minutes
Broadcaster Science Channel (US)
And when it ended in 2016, Discovery's Science Channel, which aired repeats of the original show, was keen to continue the franchise.
The challenge for Australian indie Beyond Productions was to find a way to follow it up. Mythbusters: The Search is the result.
Beyond Distribution general manager John Luscombe, who sold the original show to Discovery 15 years ago, says: "Instead of just auditioning new hosts off camera and launching a new series, we suggested to Science Channel general manager Marc Etkind and his team that the audience should be part of the quest to find the new Mythbusters. A competition reality format seemed an obvious path."
Prospective contestants sent in tapes of themselves performing experiments and the team narrowed it down to 10 finalists.
The new eight-part show is hosted by Mythbusters super-fan and Nerdist science editor Kyle Hill. A team of judges evaluate the new tests alongside guest experts from the original series.
Walking on water
The contestants compete across eight episodes, with the live finale held at Jersey City's Liberty Science Center, which houses an interactive Mythbusters exhibit.
Challenges in the finale include seeing if a water heater can be used as a rocket to escape from prison, and whether it is possible to make shoes out of life jackets and duct tape, and then use them to walk across a swimming pool.
Luscombe says one of the main challenges was to constantly find new myths to bust. "Our large fan base is a great source of story ideas, and popular culture produces things worthy of our attention on a daily basis.
Experiment ideas may come from a news story, viral video or new movie," he adds.
The producers are also considering testing out whether a quote from former US president Barack Obama, who appeared on the original show, about "digging ourselves out of a hole" is literally possible.
The show launched earlier this year on Science Channel and became the network's highest-rated new series for people aged 25 to 54 in six years.
Producers have now found their new hosts and are moving the format onto its next phase.
"MythBusters: The Search is effectively a bridging programme between the last episode of the Adam Savage and Jamie Hyneman era and a new series to be hosted by the winners," says Luscombe.
Beyond's international sales arm is now hoping that the reality competition can sell as well as the original, which has aired across the world, and usher in a new era for the franchise.
Luscombe says that Beyond is now exploring whether international broadcasters will be interested in finding their own local Mythbusters.
"We are open to producing local versions of the programme, bearing in mind, of course, that we would want to test completely new myths rather than retest old ones," he adds.
Mythbusters: The Search is one of Beyond Distribution's big launches at Mip TV.
The company will also be selling UK factual projects including Lucy Worsley's 60-minute BBC2 doc Jane Austen: Behind Closed Doors, made by BBC Productions, and BBC1 behind the scenes doc Call The Midwife: The Casebook, produced by Midnight Oil Pictures and Neal Street Productions.