'Disabled stories need to be told and when they are told they need to be told with disabled people'
I'm very surprised to be here. This is an honour I would never have even slightly guessed at. I don't quite know why I've been chosen for it, but I intend to grab it with both hands. One vital bit of housekeeping before we start, I'm weird and shy and wasn't exactly built for these things so despite having an autocue, I may not look up as often as I should. But I'll get through as best I can and hope it's OK to watch and listen to.
I love the fact I'm here because I love television. My superhero skill as a child was working out ways to watch it for longer. Maximise every second I could spend in front of that precious box. My sister and I would take it in turns to watch the window for my Dad to come home whilst the other watched Neighbours. He didn't like Neighbours, we liked it so much we would watch a window every other day for 20 minutes in order to get our dose. I also got very proficient at washing in the advert breaks of The Bill – the secret is to put shampoo on your hair whilst it's still dry and not worry too much about washing it out afterwards. I had quite severe dandruff for a very long time and started going bald at 25. I'm not sure Reg Hollis was quite worth this, but you know… And my final ruse was perhaps my best, from a very young age I pretended to be interested in The News so that I could stay up til 10pm to see it and so I got to watch whatever drama was on at 9pm. Tim Pigott-Smith was The Chief. Band of Gold. Bramwell. These are the shows that shaped me.
I think what we do is incredibly important. I think TV is beautiful. An empathy box in the corner of the room. An opportunity to provoke discussion. For me, watching TV with my Mum or my sister was always about talking. Working things out. From Mark, a straight man, having HIV in EastEnders – which I found astounding – to Queer as Folk – during which I learnt about rimming – thank you Russell T Davies - I actually tried to write a dissertation on Queer as Folk at University but things went a bit wrong - to watching Boys From The Blackstuff for the first time which I still think is the most important cultural event of my life. I was very lucky to have great teachers at my school, but the best lessons were always from TV. I think that TV is where we find our place in the world, and at a time of great cruelty TV is vital at reminding people of what humanity is.
It has, of course, been a cruel year. Just like last year was a cruel year.
We have all lost so much.
And, personally, I think the greatest thing we lost was a bit of humanity.
Because this year was a year of ableism like I've never seen before. This was a year when a lot of disabled people died.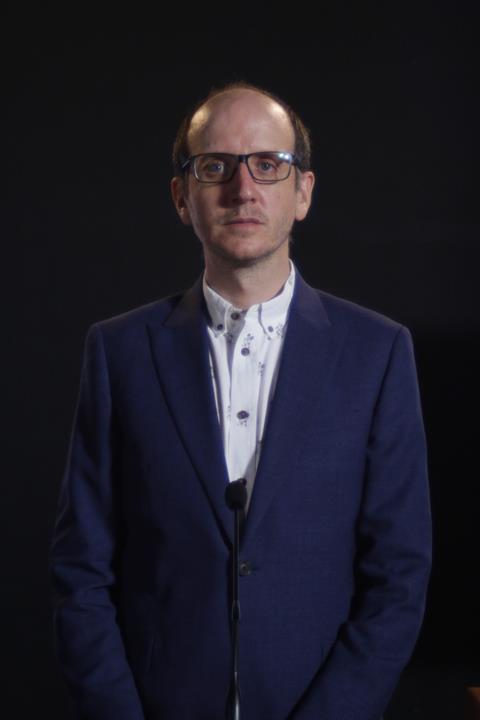 People know some of the statistics by now but just to say a few … The Covid 19 discharge requirements from NHS hospitals stated, "negative tests are not required prior to transfers into the care home." People with the disease were put amongst vulnerable adults and left. The homes themselves were allowed a maximum of only 5 Covid tests, and they only had 10% of their needed PPE – compared to 80% given to NHS hospitals. They were denied emergency nurses, they were denied GP support, the homes were isolated from the outside world. During research for my Channel 4 drama Help, I spoke to people who worked in care homes who anecdotally told me far worse stories – but those are impossible to state here for legal reasons. And it is worth saying that is the only time doing research I've ever had someone crying as they tried to deal with their own culpability. Through my job I've spoken to sexual abuse survivors, to people struggling through adoption, people who have lost huge things and there isn't, of course, a trauma league, but the rawness I encountered speaking to carers was like nothing else. They thought they were responsible, they thought they let their residents down. Of the 48,000 Covid deaths in that first wave, 40% were care home residents. Forty per cent. And it wasn't just care homes, disabled people all over were denied treatment. They were seen as more acceptable to die, because of conditions that had no relation to Covid 19. Friends of mine were told they would not get ventilated even if they needed it. Because their lives were not seen as vital. A new study, partly carried out by the ONS, estimated that, in England, between 24th January 2020 and the 28th February 2021 105,213 people died from causes involving COVID-19, 61,000 of those were disabled. That's almost 60% of all deaths.
And how did the country react? By using the term that helped them accept this unnecessary death. Underlying Health Condition. My friend Liz Carr wrote to me at one point that she was going to change her name to Underlying Health Condition. That idea, that ridiculous idea, of saying that there are two ranks of deaths, those who people should worry about – those who are "healthy" – and those who are not. I think that thinking transcended every aspect of the crisis. Two-tier lives. Obviously, our government didn't help with many of their policies, and obviously there was so much people didn't know and would have set right, but it seemed like the anxiety of much of the country for the most part was about protecting their families and themselves. People turned away. Indeed, as "freedom day" has come and gone, so few have focused on the fact that the so-called shielders would have to return to their houses. Many have been medically advised to do so. Not told, that would require some support in terms of funds, advised. Freedom for the country has come at their cost.
The journalist Frances Ryan wrote this in one of her brilliant bursts of anger:
"What happened to our "most vulnerable" during the pandemic was not some terrible tragedy. It was the all too predictable consequence of a system that decided the lives of disabled and older people mattered less than those of the rest."
I think that no-one can doubt those words are true.
And that system was ours.
To explain a little bit about me, I was a disabled person for about fifteen years, but disability can be transitory, and I don't consider myself one anymore. But I do consider myself part of the disabled community and I am very proud to be so.
When I was 20 years old I developed a condition called cholinergic urticaria. It's a heat rash basically, oh the glamour, I'm sure many people listening have had it on a holiday sometime, but in my case it got chronic and very painful. I was allergic to outside heat; I was allergic to artificial heat, and I was allergic to my body movement. Every time I moved, I would develop welts, and was in pain. I had to leave University, I went home, I stayed in bed. Some days were better than others, but most were pretty abysmal. I lay in my room in January in Wales with all the windows open and felt sorry for myself. I didn't know what it meant, and I didn't know where I fitted. I managed to get up about six months later, but for the following years of my life everything was about avoiding pain, and frequently I didn't avoid it. I was severely limited in what I could do and became someone who mostly resided at night because days meant sunlight, which meant pain. Then I went to a Graeae Theatre Company open day, the national theatre of disability in this country, three years after my diagnosis, totally unsure as to whether I belonged and I got talking to a few people and the great Alex Bulmer told me – "of course you're a disabled person" - and that feeling – that feeling of belonging to something – of having somewhere where my pain made sense – has never left me. It was a coming out moment, and a crucial part of who I am.
But I am also a well-educated – state educated but well-educated - white man, with all the privileges that that entails. My condition was invisible. I didn't experience prejudice, at least not openly though my University wasn't brilliant. And as such, I have had opportunities that my disabled family have not. A lot of opportunities. Too many opportunities many would claim.
As a result of that – as a result of that history and my opportunity – I have considered it a vital part of my working life to try and further the disabled cause.
And in the most part I've failed.
Mostly because of my own inadequacies. But also, because the TV world is stacked against the telling of disabled stories with disabled talent.
And that has to change because this is the thing – at a time when disabled people were so recently forgotten, at a time when disabled people were left to die, at a time when disabled people are still being ignored, TV has a responsibility. That empathy box has a responsibility. And yet, disability is the forgotten diversity, the one everyone leaves out of speeches. Gender, race, sexuality, all rightly get discussed at length. Disability gets relegated out. In conversations about representation, in action plans, and new era planning, disability is confined to the corner, it remains an afterthought. Actors – actors I admire - have taken roles they shouldn't have; I've been complicit in some of those decisions. Producers have ignored disabled writers. Commissioners haven't taken the opportunity to tell disabled stories. There are very few disabled people in front of the camera, and even fewer behind it.
TV has failed disabled people. Utterly and totally.
How do we change it?
It is not simple.
Firstly, there is an attitude change needed. An attitude change as to the importance of disabled drama. This is a prejudice I've witnessed first-hand over and over again. The first drama series treatment I ever wrote was a wheelchair basketball drama. I was asked to consider writing it about a non-disabled basketball drama team, because it was "full of good ideas" and it needed "the best chance it could". The fact it was disabled was dragging it down. Up to this year I had never made a single disabled story on a full drama budget. First I made The Spastic King on Channel 4's Coming Up budget, then I made a made a full series called Cast Offs on a specific Channel 4 disabled budget, we had to do it for £100,000 an hour, one sixth of normal drama budget at that time, then I made a show called Don't Take My Baby on a BBC drama doc budget. The show I'm making this year – Then Barbara Met Alan – which is cowritten with Genevieve Barr, one of the most talented writers I've ever come across, we're making out of the history department, but thanks to the BBC finding more cash and a Netflix co-pro we have been brought up to normal budget. Yay. These are the shows I've made, but I've thrown many more ideas at commissioners in that time, all have been rejected.
Now it is possible that the disabled dramas I've written for drama departments have been terrible during that time. Really possible. And I should have worked harder and pushed more. But I am not alone in knocking at the door, far from it. And during my career, in terms of British dramas with disabled characters in the lead, there's been, and I'm sure I've missed something, but I think this is everything - The Silence, The Best of Men, Flesh and Blood and Everytime You Look At Me, a handful of shows over twenty years to represent twenty percent of the population's experience. There are disabled characters and actors appearing in other series – Liz Carr in Silent Witness, Arthur Hughes in The Innocents, Cherylee Houston in Corrie, David Proud, Rose Ayling-Ellis and Lisa Hammond in Eastenders, Sarah Gordy and Leon Harrop in The A Word, Tommy Jessop in Line of Duty, Ruth Madeley in Years and Years, Melissa Johns in Life. The list goes on. It is happening. But these are disabled people fitting in with non-disabled narratives, sometimes there's great care taken in telling their stories within it, sometimes there's not, on which note I really recommend listening to David Morrissey interviewing Liz Carr on her experiences in the industry. It's on his podcast Who Am I This Time, and is incredibly revealing interview about how she had to fight to be heard and to have her character taken seriously.
Liz tells a story of casting directors fearing she was too 'disabled heavy' for their tokenistic disabled slot, preferring someone more 'disabled light'. She tells the story of not having an accessible trailer, but a makeshift store room next to the men's loos. She tells a story of Silent Witness finally agreeing to a bigger story for Liz's character to get her to sign a new deal, but this storyline was soon cut. She believes it was only filmed to satisfy her contractual demands rather than with any real intention of making the episode. She tells the story of fighting for a romantic life for her character, away from the common trope of the 'cripple who can't be loved', the undateable, the one grateful for whatever they can get. Liz had to fight, and she did fight. It took 8 years, but by the end of her time on Silent Witness, Liz finally achieved everything she asked for. And when that storyline was finally given space, the episode was one of the most acclaimed in the history of the show. Why? Because she is a magnificent actor and the story had clear resonance with the audience. And this is in no way a dig at Silent Witness which at least took that step of employing a disabled actor in the first place. The problem is, we do not empower disabled talent, and when we do - we do not value the stories they tell.
And this is still an industry in which disabled people aren't employed to tell disabled stories. I haven't found the equivalent figure for the UK but the 2018 Ruderman White Paper on Authentic Representation in TV found that across American network TV a mere 22% of characters with disabilities were portrayed by an actor with the same disability and on streaming platforms it was even worse - 20%. I love this statistic: since 1988, about one third of all the lead actor Oscars went to actors who portrayed characters with disabilities, yet not one of them had the disability which they played. This is a historical problem but it is a current problem. And very few are making our case, in the press and outside. Last year a film came out called Come As You Are about three disabled friends going on a roadtrip to a brothel to lose their virginity. None of these three characters were played by disabled actors. Something as sensitive as disability and sex – really sensitive – and they couldn't find disabled actors to play the roles? The film currently has 95% on Rotten Tomatoes – with the summary: "Come As You Are approaches sensitive subjects with heart and humour, taking audiences on a thoroughly entertaining road trip to a crowd-pleasing destination". They were called out on Twitter, but they were not called out by the vast majority of reviewers.
And what is true for actors is also true for writers and directors. The stories I've heard from friends and colleagues are devastating. Where directors have been told characters and casting may be "too disabled". Where people have pointed out ableism and been openly threatened as to their future careers. Where disabled writers invited into writers' rooms have been unpaid, have been asked to pay for their own support, where commissioners and producers become fixated on their disability and not their range and talent, where they're castigated and patronised, where they're made to feel like they're the one that's made the situation uncomfortable. And in one very horrific case a writer talked about being attacked and bullied for raising a cultural concern, and after suggesting an idea involving disability that the show then used, being denied the opportunity to write or co-write it, in fact being denied any credit at all. Their work was stolen. As this friend wrote to me "if my exact experiences had happened to another type of minority, would they have been taken more seriously?"
Things are slowly changing. Criptales was made this year, 10-minute BBC drama shorts told exclusively by a mighty team of disabled talent. It was nominated for numerous awards and won the Prix Italia. Ralph and Katie is shooting this year and Peter Bowker has found an incredible range of disabled writers to write it with him. There are green shoots sticking up all over the place. Both here and in America where creatives like Marlee Matlin, Ali Stroker and Ryan O'Connell are doing sensational work. But it's all quite piecemeal, it's not undercut with serious thought, it frequently relies on disabled makers being brave and putting themselves in uncomfortable situations and – most importantly - it's not fast enough. In fact, Covid may ironically have made the situation go backwards. If you speak to disabled writing talent the thing you hear again and again about this Covid crisis is "I was starting to break through before this happened and now the phone has gone quiet and I worry that theatres and channels will be so desperate for major hits that their support for the stories I tell will be lost."
Disabled stories need to be told and when they are told they need to be told with disabled people. It's an obvious thing to say: it isn't happening.
Secondly, disability needs to be seen as more than one thing. Disability is scary, talking about disability is scary. I still make mistakes in terms of how someone's impairment should be discussed. But as a result of that fear, the complex becomes simple. And TV's greatest power is when it runs towards a complexity, not away from it.
Disabled people and disabled stories tend to be relegated into two camps, heroes or victims, preferably they're both. Inspirational crips climbing up a mountain on their hands whilst we all applaud. Sometimes they're funny, an acerbic best friend, mostly they're just sorrowful. Mat Fraser did a demon Richard III for Northern Broadsides theatre company. Give him that same villain role on television. Cherylee Houston rips up Corrie everytime she appears on it, make her the next Sarah Lancashire. And someone is going to build a show around Ruth Madeley, and when they do they'll realise she is one of the talents of our time. Entertainment is ahead of us, comedy is ahead of us. Jerk is a scabrous comedy that tells a disabled story from a disabled perspective, The Last Leg has grown into a complex and glorious comedy event. It doesn't obey any rules. It's ramshackle and it's fantastic. Drama needs to walk to the same beat. There is a difference between disabled stories and stories about disabled people and we need both and we need those people to be people first and disabled second, because that's the reality they live in.
Because here's the thing - disability is a diversity. Learning, invisible, physical, neuro, yes, but also just a diversity of experience of personality. It's so obvious to say and yet it is so rarely represented. And it needs to be.
It's hard to write to this diversity but in my experience, disabled people are very open and very willing to talk about what their condition means and how it might impact the writing process. Don't be invasive but do be inquisitive. Ask them questions they're not asked. Ask them how they deal with their guide dog defecating on the street. Ask them about the difference between a wheelchair user and an ambulatory wheelchair user. Ask them about their pain. A lot of disabled people are in pain a lot of the time, do we see it on TV? Rarely. Or better yet, better than asking any of those questions – hire them to tell their own stories themselves.
If you do not know where to get started in this, there are lots of places to go. Look at the work of Danc – the disabled artists networking community – this year they launched a talent database. They are currently supporting the writing of a set of guidelines for the treatment of disabled people in writers' rooms, which will challenge existing practices and look to make those vital spaces, safe. This is brilliant. They are brilliant. You will find their website and the database at www.triplec.org.uk. Elevate them. Look at DDPTV – Deaf and Disabled People in TV – a campaign group and a network for disabled talent that provides peer to peer advice and tries to find solutions for all. If you are disabled and aren't part of either of those things, reach out and you'll be included, and if you aren't, help them, they are working all the time for change, they need to be listened to now more than ever. Give them space.
Which leads me onto the third thing. In order to get this diversity, disability needs quotas. Desperately needs quotas. There is an intention to change, but that intention is not backed up by impositions on the makers to change their ways. The stats need repeating again and again and again. 20% of our population are disabled, a mere 8.2% of on-screen talent represents them, and a terrifying awful 5.4% of people work off-screen, of which, and this is most damning of all, the executives at the top are only 3.6% disabled. The Creative Diversity Network announced in partnership with broadcasters to set a target of doubling disability representation in front and behind the camera by 2021. Their interim report stated that by 2020 instead of seeing the sort of rapid change that was required for this, the growth was only 0.9% and so it is "unlikely" the target will be reached by end of 2021 and that target, as the report itself states, is not enough to make representation truly proportional. According to the CDN it will take until 2041 at the current rate of growth for disability in off-screen roles to truly reflect the make-up of the UK. To get that vaunted 20% representation. I know the Black Lives Matter movement has a long way to go, and that no-one is satisfied with our current state of affairs, but I can't tell you the difference it has made to casting conversations. That need for representation. The fact that the same white names and faces aren't presented in every conversation. Actors, writers and directors of colour are finally being elevated, and it means that there is starting to be a complexity to the stories being told on TV. However, the conversation on disability representation is nowhere near as advanced, I have had conversations about disabled talent for years where some of the most appalling things have been said. A casting agent I really admire said to me once about a disabled actor "we just don't want to overextend them". Would you ever say that about a white man? Would you say that about anyone but disabled talent? This casting agent said it out loud, a lot of people think it.
Firm quotas behind and in front of the camera would fundamentally alter the stories being told. And these quotas need enforcement. I am firmly behind Lenny Henry's Representation Tax Relief idea, and feel disability would really benefit from it. I also think the plan David Olusoga outlined on this stage last year for DCMS to use its powers to set up a body to enforce these standards is an incredibly good one. Why not have both?
And these quotas need to be everywhere. Because change is required throughout our sector, not just in the making portion. Crucially it needs to be in drama schools and training institutions. Drama schools in particular have been the bastions of privilege for so long. I can't tell you how important it is that we kick in those doors.
But the thing that sets disability apart from everything else and the final thing that needs to change is that disability needs the buildings to be different. Sit on a panel with disabled artists and the thing you hear again and again is that no-one considered that the honeywagons – and for those that don't speak fluent film and TV – honeywagons are toilets – were inaccessible to wheelchairs. Which means when they need the toilet they have to cause a fuss. Deaf people are denied conversations with key personnel because there isn't a good enough communication system in place. Offices are on inaccessible floors and flooring is inappropriate for wheelchair use. These are buildings and outside facilities that are not fit for purpose where disabled people are concerned – and they need an upgrade, everything from fitting lifts with tactile buttons, to disabled parking bays, to visual fire alarms to quiet rooms away from set.
To explain this, I'm going to talk about a good friend of mine. She did a job where they were filming in a "studio" (an old factory actually). Every day that she was required to work on the truck at Unit Base my friend, who cannot walk, had to crawl up the steps and along the floor to get to her desk. A floor, I might add, that had been walked over by dozens of muddy crew boots. When at her desk she had to sit on a box of printer paper so she could reach. All the while her electric wheelchair was outside getting soaked by the rain (with only a golf umbrella for protection). A wheelchair that if it broke would leave her totally screwed. There were no accessible toilets on site so once a day she would drive 15 minutes each way to use a loo at the local Tesco's. Once a day, because leaving work for 40 minutes at a time just to go to the loo is not possible. Bearing in mind most days she was on set for breakfast at 7am and there well after wrap at 8pm this meant she restricted her water and food intake daily and the medic was bringing her Solpadeine Max every day to help with the pain.
Now, you may sit there and say, why didn't she ask for help, an accessible toilet, a ramp or all of the above? Well, therein lies your problem. With no funding pool available and the film budget tight she had nowhere to go to ask. And because she, like most disabled people has learnt to fit into a non-disabled narrative - to work hard, to do her job and to not complain, nothing changed. No-one should be treated that way.
Coincidentally, lots of industry leaders name check the government's Access to Work scheme as being able to help with these reasonable adjustments and their corresponding costs. Well, Access to Work has had a lot of damage done to it in recent years by this government and it doesn't function as it should. In reality most freelancers in our industry are on three to six month contracts and, at best, have a few weeks' notice before they are required to start work. Access to Work takes months to apply for and get approved, by which time the production has already wrapped, is in post and that individual has missed their opportunity for employment.
There are two models for discussing disability. One is the medical model, which is about describing disability as an impairment, something to be individually overcome, one built on the charity of others. The other is the Social Model, which says that disability only exists when society makes it so. It is the inaccessibility of people, places and things that makes a person disabled. Challenge that inaccessibility and change can and will happen.
I have been working with my friends Katie Player and Genevieve Barr to look into this. Today I have their permission to announce the setting up of a pressure group – we're calling ourselves Underlying Health Condition because, frankly, TV has one. We're about eight months old and we're not ready to report yet, and for those institutions who haven't returned the surveys we sent out, please do so. We are currently consulting and researching and working on a plan for industrial support for this industrial change. Because making these changes will cost, and after a pandemic they cannot simply be passed onto the studios, we will need the industry to pay for it. With a dedicated fund we can make every space accessible and create rules for the building of further spaces. Not just inside studios, but also outside facilities. This fund will cost us comparatively little as an industry and yet make a huge difference to getting those percentages up behind the scenes. We need these spaces to be truly inclusive so that never again will people will be crawling across the floor, never again will people be denied a meeting because of lack of access, never again will disabled people be excluded because of the spaces we work in.
The fight won't be over then, the Social Model of Disability requires constant vigilance. The space is one thing, but as many of my examples show, an accessible floor does not make for an accessible experience. The 1in4 coalition – a brilliant organisation in the US – talks about the need for a set accessibility coordinator. Similar to the role an intimacy coordinator performs, and what a vital role that has become, it'd be someone to protect conditions and make sure everyone is comfortable. It'd give a disabled member of a company a point of contact and an understanding. DDPTV's amazing report on Disability by Design states "60% of participants reported experience of some form of ableism or discrimination while working or seeking work in the TV industry". It will take all of us watching all the time to force that figure down.
These two measures combined will change the experience for disabled people in our industry forever, and perhaps lead to a fundamental adjustment of the type of stories we tell.
I hope I don't, I probably do, but I hope I don't sound holier than thou. I am far from perfect in all this. I'm not claiming to speak for the disabled community, and they wouldn't want me to, just for myself, and I really don't think I've got everything right. As I said, I've failed far more than I've succeeded and that doesn't just mean people haven't given me the chance, that means I've had chances and I didn't take them. I had a disabled actor on a TV show I was making have his part cut in half in front of me. Literally, in a meeting in front of me, by a director I was working with. He thought my friend wasn't up to the job, he was wrong and, in my opinion, prejudiced. I said something, but I should have said more, I should have walked out of the room, I should have refused to be part of it, I should have shown what this actor needed - solidarity. I did pathetically little. Another actor was cast and my friend's part trimmed to almost nothing. As such they were given an awful lot of standing around to do, but very few lines. They later wrote to me "in making those choices, you… relegated the only meaningful disabled actor to the background" . And I tell you, the shame of that…. The shame….
And that is my point, I'm a coward. If they were picking sides for war, however just the cause, I'd be the one at the back pointing out that my knees are gone, I've asthma, my skin is catastrophically awful and I'm so weak my Pilates teacher has the catchphrase "that's ok Jack, you'll do better next time". And I think this last year has been about cowardice. The ignoring of the disabled experience. The ignoring of the unnecessary deaths of tens of thousands. And the time has come for TV to change. To reflect the experience of millions, and to protect – to some degree - these millions through empathy. To do this, requires bravery on all our parts.
And if that bravery happens – I am optimistic change will happen. Because I genuinely believe in TV. This brings me back to what I said at the beginning. I was shaped by it and I truly believe others are shaped by it too. Young people may not be watching it in the same way but the ideas within it seem to seamlessly drip out from its origins. I think the age of changing everyone through a single piece of TV is over. TV is too diffusely consumed for that. The idea that Cathy Come Home could provoke Shelter – that feels far away. But that diffuse consumption also leads to a diffuse conversation through the medium. When something hits, it stays and replicates. Downton Abbey provoked copycats, suddenly everyone on TV became posh and Eton not only took over our government but our TV too. I remember walking through BBC HQ after Skins became a hit and there were signs – three or four on different walls, talking specifically about Skins and our audience to provoke BBC commissioners and this was the start of a wave. More recently I May Destroy You – written by my predecessor up here and perhaps the best piece of drama I've seen in the last twenty years – is provoking incredible conversations all over our landscape. A wave is formed, and when something brilliant is at the bottom of that wave glorious things happen. TV is humanity and TV behaves like a human. So all I'm hoping for is a chink – a chink of change – and once people realise how valuable disabled people are – how consumable the stories – suddenly we'll be washed through with them, and no longer will the inspirational crip be the model, and maybe – hopefully - disabled people will be treated with an iota more dignity.
For years, the attitude towards disability has been don't look. You still see it now. People walking down the street averting their eyes away from a wheelchair out of embarrassment. Don't get me wrong, there are some assholes that take pictures of people that look different and they can burn in hell. But so many just - avoid eyes. TV makes you look. And eyes are needed. Because if we don't look, we ignore and we forget, and this last year – in fact the last ten years since the horror of austerity – has proved disabled people need eyes upon them. Need their stories being given value. TV has such value. We are here to celebrate it. But that value needs to be nurtured. By making visible what for too long has been invisible, change can and should happen.
I want to end with a poem by Jamie Hale from his beautiful poetry collection Shield. I met Jamie as part of the Crips without Constraints scheme that Graeae run. He's an extraordinary voice. Like a lot of disabled people Jamie was told the treatment open to him would be limited in a time of Covid, that he was a "low priority" patient. He understood the deadliness of this and wrote this poem about it. I'm not a performer and so I'm going to butcher his poem but hopefully the power of his words comes through all the same:
i write an email to my GP telling him please
i love my life telling him please I want to be
the opposite of a Do Not Resuscitate order
the opposite of a patient you'd give a quiet death
o god let me die loudly let my ribs crack
i will arc with shock please i'd rather die
as i've lived as i've lived filled with love and
i'd rather die fierce as myself, every time
every bloody time, so I tell him what I do
wave my accomplishments my desperate
shield of fragile silk; i hide and tell him
i have value over and over and over
and over as if i wasn't sat at the keys
crying silently and telling him this
—
Thankfully Jamie survived. But he survived by not catching Covid. Because if he had, and were he hospitalised, he would likely not get a ventilator. The help we all rely on, was not there for him.
And now he and many others need venerating by our industry so that he is seen, and heard, and hopefully our empathy box can help make sure he and others like him, will never be treated that way again. So that one day we can look back on this pandemic and the way we treated others with the disgust it deserves.
The director Nickie Wildin said something that always stayed with me, we are all pre-disabled. So, whether it is in self-interest or in the interest of others, the time has come to scream.
Thank you for listening.