BT praised for women's sport coverage, while BBC should do more, according to viewer survey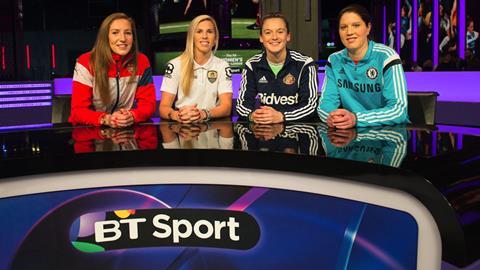 UK television viewers believe that BT is doing more to televise women's sport than other media platforms including the BBC, Sky, ITV, Channel 4 and Facebook.
According to a Netfluential survey, more than half of viewers (52%) thought the BBC should be doing more to encourage women to participate in sport. The comparative figures were 50% for Sky, 44% for ITV, 36% for Channel 4 and 33% for Facebook. At 31%, BT had the most favourable response.
The Netfluential survey was conducted in January 2019 among a sample of 10,000 people.
Overall, respondents believed that broadcasting more women's sport is a positive move. 71% of UK adults agreed that showing more women's sport would be good "because it will have a positive effect on girls and women taking part in sport."
A majority (61%) of young women agreed they would "feel more confident if there were more people like me on TV", versus 43% of the general population.
Four in 10 (43%) of people in the survey who said they were interested in sport had watched women's sport in the last month, compared to 81% for men's sport.
For daily broadcast sports stories, covering sport production, distribution and tech innovation, visit Broadcast Sport and bookmark the Broadcast Sport homepage, http://www.broadcast-sport.com
Viewers said the main barrier to watching more women's sport is the lack of coverage, not the quality of the sport being played.
Six in 10 of the respondents interested in sport said that the reason they don't watch women's sport more often was a combination of: "There is not enough coverage of women's sport on TV"; "The commentary is not very good"; and The fixtures are not advertised enough so I do not know when they are shown"
BT Sport televises the FA Women's Super League football matches on its main sports channel, while the BBC in comparison offering games online or via the red button. BT Sport also provides coverage of 21 WTA (Women's Tennis Association) tournaments each year.
Netfluential CEO Jeroen Verheggen said: "Our research points to a growing demand in the UK for women's sport on TV, and in most cases, we can see that this need isn't being met by the mainstream broadcasters."