IBC 2014: Panasonic has given a European debut to its third generation Varicam.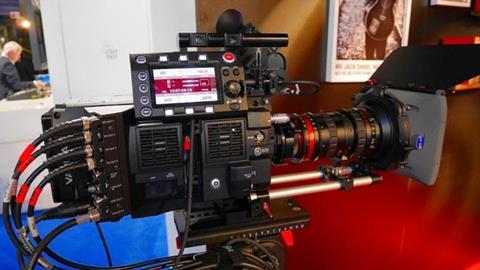 The modular camera, which was launched at NAB earlier this year, is due to ship in October.
There are two variants of the camera: the super 35mm, 4K Varicam 35, and the 2/3 type, high speed HD Varicam HS.
Director of Panasonic's Professional Camera division Andre Meterian said: "Inherited from original Varicam, the Varicam 35 features a V-Log gamma to cover wide latitude - an impressive 14-plus stops.
"What is more, the ability to simultaneously record in two different formats and codecs together with its in-camera colour grading function means it is possible to record 4K master and HD simultaneously and begin colour grading on site. This will greatly help production companies to streamline their workflows.
"Varicam HS will provide smooth slow motion effects, by recording in 240fps HD, without a cache memory."
Also on display was the recently unveiled AJ-PX800, which Panasonic described as "the world's lightest shoulder-mounted 2/3 type camera-recorder equipped with 3MOS image sensors".
Set for release in October, the AJ-PX800 weighs 2.8kg, captures SD and HD, and shoots a range of codecs including AVC-Intra and AVC-Long G (50/25/12Mbps) codecs.
A collaboration with LiveU will also see future releases of Panasonic broadcasting camera recorders support a direct connection with LiveU Central management platform.