The Real Marigold Hotel blurred genres and addressed diverse themes – and became a massive ratings hit. More than 4 million people tuned in to its clever combination of celebrity reality show, travelogue and documentary.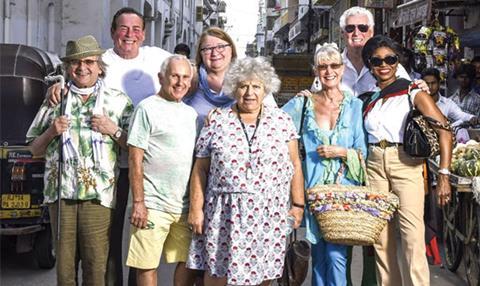 It was a light-touch format chock full of humour, but also able to deliver what one judge described as "touching insights into old age".
The casting was inspired. Miriam Margolyes, Wayne Sleep and Bobby George have rarely shared screen time before – and their interactions and unlikely friendships gave the series genuine warmth.
The group experienced the full range of India's diversity, from sprawling slums to an encounter with Jaipur's royal family at an opulent palace.
The cast rode elephants, learned yoga and Hindi and visited holy sites and temples. Tuk tuk rides and attempts to slaughter chickens for dinner also provided entertaining moments and the series has already won a Rose d'Or Award for Reality and Factual Entertainment.
One judge called it an outstanding, honest documentary. "It not only provided insights into India, but on old age, relationships and mortality. The celebrities were honest and fun, and the series delivered transparency without overproduced artifice."
An extended four-part series two will launch shortly on BBC One following its promotion to the main channel.
SHORTLIST
EMPLOYABLE ME
Optomen Television for BBC Two
Autism, Tourette's Syndrome and Asperger's have been given plenty of televisual treatments in the past, but Optomen's series about employment opportunities provided a fresh entry point. Warm and moving,
Employable Me became one of BBC2's calling cards in 2016. It has since been recom missioned and sold as both a fi nished tape and a light-touch format.
GPS BEHIND CLOSED DOORS
Knickerbockerglory TV for Channel 5
Firmly established as a key brand for Channel 5, some 53 episodes of GPs Behind Closed Doors were shot over a mammoth 35-week filming period. The fi xed-rig show captured the variety of GPs' working lives and eschewed voiceover to let the doctors and their patients do the talking.
THE ISLAND WITH BEAR GRYLLS
Shine TV for Channel 4
The third series of Channel 4's returning hit marooned groups of men and women alongside each other on the same island – but unbeknown to each other. Viewers got to know the two groups separately before they fi nally met – and then saw how that meeting changed them. The show maintained its strong performance, averaging 3.2 million viewers.
SAS: WHO DARES WINS
Minnow Films for Channel 4
Minnow's trademark visual flair and emotional storytelling were to the fore in a series that brought innovation to a well-trodden subject area. Drones, in-car cameras, super-slowmotion and lightweight cameras were all used, and strong casting of contributors and former military men made this a standout series.
THE SECRET LIFE OF 4, 5 AND 6 YEAR OLDS
RDF Television for Channel 4
After the original single doc won last year's Best Popular Factual Programme award, the full series makes the shortlist again. One of Channel 4's most heartwarming shows, The Secret Life… was a perfect blend of child psychology and humour and entertained an average of 2.7 million viewers. Is this TV's cutest cast?