'Historic' three-year deal covers all Spanish league games and introduces dedicated platform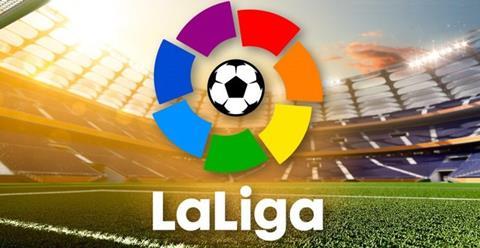 LaLiga and Premier Sports have announced a "historic agreement" that will see all La Liga games to the end of the 2021/22 season broadcast in the UK and Ireland.
It has also revealed the launch of LaLigaTV; a dedicated 24/7 channel in the UK and Ireland for LaLiga coverage.
LaLigaTV will show all live games and new weekly shows LaLiga World, VIVA LaLiga and The LaLiga Show.
It will be available via Premier Sports as part of the broadcaster's channel bundle on Sky TV, or through the Premier Player OTT streaming service, for £11.99 per month or £99 per year.
It will also be possible to add LaLigaTV as a standalone service via Premier Sports for £5.99 a month or £49 a year.
LaLigaTV will officially launch on Sky TV and the Premier Player over "the coming weeks."
The details of the deal
• Ground-breaking partnership will see live games from LaLiga Santander broadcast on Premier Sports 1 and 2 prior to LaLigaTV joining the Premier Sports bundle on Sky TV. LaLigaTV will also be available as a standalone subscription option on various platforms.
• Premier Sports to air full slate of live matches from LaLiga Santander across Premier Sports 1 and 2 HD channels during upcoming Matchdays 4 and 5, followed by extensive match coverage thereafter.
• LaLiga completes Premier Sports' line-up of live sports including Serie A, Scottish Cup football, MLS, Eredivisie, PRO14 Rugby, NHL and NASCAR for £11.99/month.
In addition to the coverage on Premier Sports/LaLigaTV, Premier Sports sister channel, FreeSports, will broadcast selected LaLiga matches for free, and host a weekly LaLiga highlights show.
LaLiga President Javier Tebas said: "LaLiga is enjoyed across the globe, with an especially passionate fanbase in the UK and Ireland. Through our long-term partnership with Premier Sports, we're happy to give fans of Spanish football a chance to enjoy LaLiga's world-class content in a variety of formats, including via OTT and Premier Sports' linear TV offering, as well as our own dedicated English-language channel, LaLigaTV. We trust that football fans across both these territories will enjoy unprecedented access to the best league in the world."
Richard Sweeney, CEO of Premier Sports, added: "We're extremely proud to be partnering with LaLiga to begin broadcasting the world's greatest league to UK and Ireland viewers on Premier Sports and via the soon to be launched LaLigaTV channel."
Upcoming schedule
Friday 13th September
o Mallorca vs. Athletic Club · 8:00 pm · FreeSports + Premier Sports 1
Saturday 14th September
o Real Madrid vs. Levante · 12:00 pm · Premier Sports 1
o Leganés vs. Villarreal* (delayed due to UK blackout restrictions)
o Real Sociedad vs. Atlético Madrid · 5:30 pm · Premier Sports 2
o Barcelona vs. Valencia · 8:00 pm · Premier Sports 2
Sunday 15th September
o Eibar vs. Espanyol · 11:00 am · Premier Sports 2
o Alavés vs. Sevilla · 1:00 pm · Premier Sports 2
o Celta vs. Granada · 3:00 pm · Premier Sports 2
o Valladolid vs. Osasuna · 5:30 pm · Premier Sports 2
o Betis vs. Getafe · 8:00 pm · Premier Sports 2
Friday 20th September
o Osasuna vs. Betis · 8:00 pm · Premier Sports 1
Saturday 21st September
o Villarreal vs. Valladolid · 12:00 pm · Premier Sports 1
o Levante vs. Eibar* (delayed due to UK blackout restrictions)
o Atlético Madrid vs. Celta · 5:30 pm · Premier Sports 2
o Granada vs. Barcelona · 8:00 pm · Premier Sports 2
Sunday 22nd September
o Getafe vs. Mallorca · 11:00 am · FreeSports + Premier Sports 2
o Espanyol vs. Real Sociedad · 1:00 pm · Premier Sports 2
o Valencia vs. Leganés · 3:00 pm · Premier Sports 2
o Athletic Club vs. Alavés · 5:30 pm · Premier Sports 2
o Sevilla vs. Real Madrid · 8:00 pm · Premier Sports 2