The data can now be integrated into live productions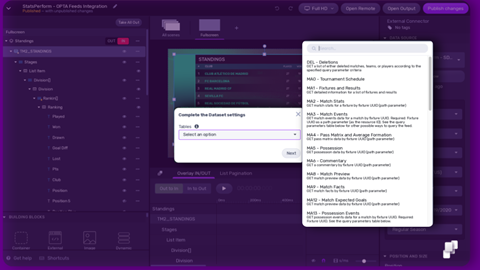 Flowics has integrated Stats Perform data to its graphics offering.
The Stats Perform Connector for cloud-based broadcast engine Flowics Graphics means that broadcasters can now add data and statistics from Stats Perform into live productions without the need of any custom development.
The native integration of Stats Perform APIs into the Flowics platform abstracts the complexity of data feeds, which is handled internally by Flowics External Connectors architecture. This aims to ease operation and reduce time for creating graphics.
Data from multiple sports and competitions is included, such as games from all soccer leagues and the NBA, NHL, MLB, and NFL. Users can also extend the original datasets provided by Stats Perform with additional fields, including translations (for multilanguage support) and images such as team shields and player photos.
Gabriel Baños, Flowics CEO and founder, said: "Sports data providers offer an extensive range of sports statistics, but given the complexity of certain feeds and the effort required to produce broadcast graphics, clients end up using just a small fraction of all the data available. Through this new integration and partnership with Stats Perform, we are solving this problem.
The Stats Perform Connector is available as an add on to the Flowics Graphics engine, and the fee depends on the number of sports and competitions in the broadcaster's contract.
Flowics is the second integration that Stats Perform has announced recently, with audience engagment and interactivity company LiveLike also bringing in the sports data specialist this month.