Four pro eports players will battle it out in a Rocket League competition at the Vegas trade show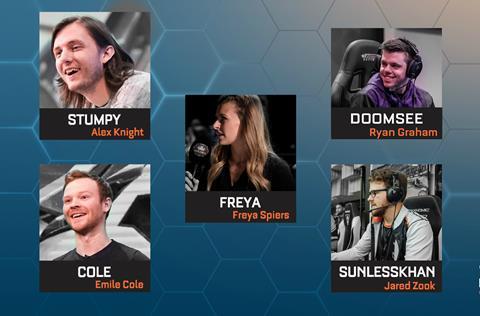 Grass Valley is hosting a live esports competition on its booth at NAB 2019 in a collaboration with competitive gaming platform and specialist esports production company FACEIT.
The company's stage at the Las Vegas tech trade show will feature four pro gamers competing in Rocket League.
Commentator, writer and presenter (and esports enthusiast) Freya Spiers will host the game coverage, with gamers Alex 'Stumpy' Knight, Emile 'Cole' Cole, Ryan 'Doomsee' Graham and Jared 'SunlessKhan' Zook.
The players
* Alex 'Stumpy' Knight is a full-time presenter, interviewer and streamer, specialising in Rocket League. He hosts his own show on Ginx Esports TV five days a week.
* Emile 'Cole' Cole is a full-time esports content creator who writes and presents for Ginx Esports TV and Dexerto.com - the world's largest provider of esports news.
* Ryan 'Doomsee' Graham is a pro Rocket League player and streamer and has competed in the RLCS (Rocket League Championship Series) as well as the Gfinity Elite Series in London.
* Jared 'SunlessKhan' Zook is a full-time Rocket League content creator with over 250,000 subscribers on YouTube and 20,000 followers on Twitch.
Grass Valley is creating a live esports production environment (replicating an end-to-end production workflow) to capture, vision mix and archive the action from its NAB 2019 stage.
Naturally, all the production kit is from Grass Valley. It will be filmed on Grass Valley LDX 86N Series cameras, vision mixed on two M/E GV Korona K-Frame V-series production switchers, controlled by the Ignite automated production platform. Super-slow motion and instant replays will come with Grass Valley's LiveTouch system, while a T2 4K digital recorder/player will archive the daily competitions.
For daily broadcast sports stories, covering sport production, distribution and tech innovation, visit Broadcast Sport and bookmark the Broadcast Sport homepage, http://www.broadcastnow.co.uk/sport
The driver for its esports focus at the show is to demonstrate the company's "ability to leverage decades of live production experience to meet the specific needs of esports companies and specialist venues," it says.
Mark Hilton, vice president of live production at Grass Valley, said: "With global revenues set to reach US$1.6 billion by 2021, the dynamic esports sector presents a real opportunity for our customers to create connections between fans around exciting live gaming environments. Our esports stage demonstrates how Grass Valley helps customers create and leverage captivating content in new and exciting ways, allowing them to meet consumer demands for engaging and immersive experiences on any platform."