MONDAY: News UK channel sets off with peak of 400k, beating BBC News and Sky News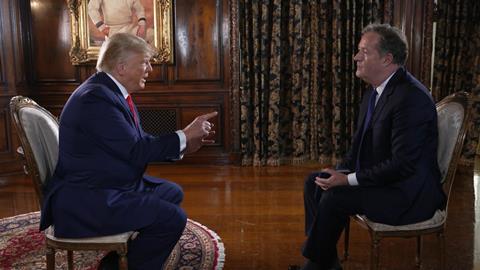 Piers Morgan: Uncensored (Talk TV) 8pm-9pm
317,000 (2%)
The former Good Morning Britain host launched his daily show with an extended interview with former US president Donald Trump to an audience well ahead of the 260,000 (1.6%) who watched Andrew Neil launch GB News in an 8pm slot on Sunday 13 June.
Morgan's presidential interview, which continues tonight (26 April), peaked with a high of 400,000 (2.4%) in its closing minutes, edging ahead of the 336,000 (2.3%) peak for the GB News debut.
Piers Morgan: Uncensored's performance meant it reeled in a bigger audience across the hour than BBC News (135,000 / 0.8%) and Sky News Tonight (107,000 / 0.7%) and was well ahead of GB News' Mark Steyn show (33,000 / 0.2%).
The programme was not far behind Channel 4 Dispatches: Inside The Metaverse, which aired over 30-minutes from 8pm to 420,000 (2.7%). It could not match the 510,000 (3.2%) who tuned into BBC4's World Championship Snooker coverage but was comfortably ahead of an edition of QI on Dave (213,000 / 1.5%), a More 4 repeat of Escape to the Chateau (80,000 / 0.5%) and BBC3's 8.30pm format Stitch Please! (20,000 / 0.1%).
The majority of Morgan's audience (54%) was aged 65-plus, according to Barb data provided by overnights.tv.
Uncensored was followed across the 9pm hour by The Talk, which featured Sharon Osborne and Jeremy Kyle, and aired to an average of 44,000 (0.3%).