"The world's first holographic media machine in your pocket."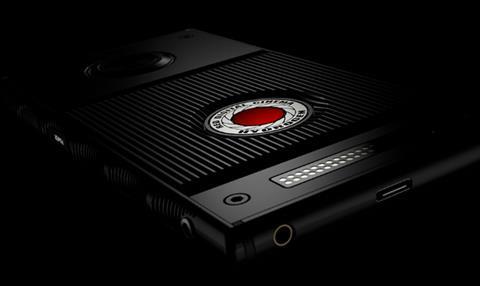 After just over a week of intense speculation as to what's going on, following Red Digital Cameras owner Jim Jannard's mysterious post to the Red User forum telling readers they need to be "online at 9am PDT on 6th July and have your credit card ready", the secret has now been revealed.
Red is launching an Android smartphone with a difference, The Hydrogen One. It's what Jannard describes as "the world's first holographic media machine in your pocket."
In the highly anticipated announcement, he said the phone is "The future of personal communications, information gathering, holographic multi-view, 2D, 3D, AR/VR/MR. Image capture just changed forever."
You won't need glasses or a separate headset to view the multi-dimensional content thanks to the phone's 5.7" holographic display, with "nanotechnology that seamlessly switches between traditional 2D content, holographic multi-view content, 3D content and interactive games."
Movies, docs, games, shopping and other apps for four-view holographic content will be available through Red Channel. The holographic content will be in a format called Red Hydrogen four-view (H4V).
The Smartphone will also have immersive sound, converting stereo into what Jannard describes as "5.1 on your headphones - the difference this makes would be enough to justify the entire system."
As with Red cameras, the phone is modular – interestingly, Jannard promises future attachments for shooting higher quality motion, still images and holographic images. In addition, and again of particular interest to the professional camera market, the Hydrogen One will work as a user interface and monitor for the Scarlet, Epic and Weapon.
The introductory pricing for the phone is US$1,195 for an aluminium version or US$1,595 for a titanium version. This doesn't include shipping or taxes and you'll have quite a long wait before you receive the device, which is due to start shipping Q1, 2018.