If the four years since the last World Cup have been a long time in football, they have been a geological age in broadcast technology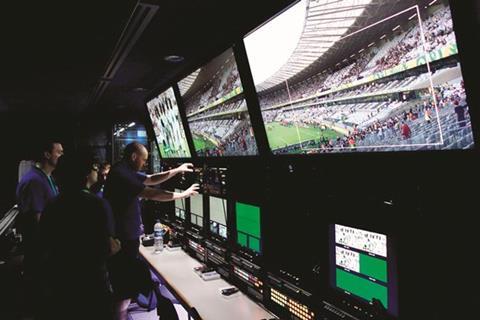 At the South Africa World Cup in 2010, Sony bankrolled the production of 25 games in stereo 3D. This time around, not a single frame will be captured in the format as attention switches to 4K.
There is plenty of innovation elsewhere too, notably in the areas of remote production and second-screen content.
For host broadcaster HBS, the start of the tournament on 12 June will represent the culmination of four years' meticulous planning. Given the sheer size of Brazil and the potential problems in moving equipment around between the dozen venues, HBS decided on a new model of production for the 64 matches.
Twelve identical containers (plus a spare) have been kitted out by SonoVTS in Germany, which worked with Sony and Harris Broadcast (now Imagine Communications). For security's sake, they were transported by different ships to South America, where they will be completed to an identical specification.
It's a kit-heavy method of operating - EVS has shipped out 234 of its XT3 servers: 16 for each venue plus the International Broadcast Centre (IBC) in Rio de Janeiro, while Sony is supplying 288 HD cameras, mostly HDC units - but it's a safe strategy, and one that acknowledges the increased flexibility of moving people rather than equipment.
That said, around 4.5 tonnes of camera gear will have to be moved between matches.
In all respects, it's an international effort. The companies Sony is working with to produce its coverage include Presteigne Charter, Studio Berlin, CTV Outside Broadcasts, Belgian firm Outside Broadcast, AMP Visual TV and Broadcast RF.
Directors, meanwhile, choose their own teams and 66 nationalities will come together to produce the HBS coverage, with national quirks carefully ironed out via an extensive training programme, even involving a match simulator, in an effort to produce homogenous coverage.
Camera increase
The standard camera plan for Brazil 2014 increases the number of cameras per game to 37, including ultra-slow-motion camera systems from NAC and DVS, and the aerial and cable cams that were only an option in South Africa in 2010.
In contrast, the main camera plan for the 2010 tournament allowed for 32 cameras. The match day set-up will be augmented by the efforts of 41 ENG teams, 32 of which will be based at the training centres of the 32 teams, with nine further roving crews around the country to capture the ambience and crowds in different cities.
All in all, HBS plans to produce 5,000 hours of coverage from Brazil, a huge increase from the 3,500 hours captured in South Africa. All of this will be held on the Fifa Max system - essentially a cluster of different types of servers and storage located at the IBC in Rio.
It will hold material in AVC Intra HD and H.264 proxy formats. Six EVS XT3 servers will manage the ingest of up to 28 feeds simultaneously, which is less overkill than might be imagined, given that nine feeds (clean, dirty, tactical, player A, player B and so on) are being produced from each match and transmitted by diverse links.
Material will be logged as it comes in using EVS IP Director. Between 70 and 80 IP browse stations at the IBC will allow MRLs (media rights licensees) access to the content on the server. There are also 36 between HBS's own teams and MRLs.
What is truly different about this World Cup is that the same access to the Fifa Max server is granted to anyone with the appropriate licence anywhere in the world, which represents a coming-of-age for remote production technologies.
Around 75 MRL licenses have been distributed to broadcasters at the IBC in Rio, with more than that number granted to production teams planning on logging onto the server from their home cities.The workfl ow allows for much more than a simple cutting of the nine feeds too, relying on EVS's C-Cast system (the same one that drives second-screen apps) to allow remote directors to choose from a range of camera angles and slo-mo highlights not included in the world feeds.
This is being used both 'internally' and 'externally' by HBS, with C-Cast also being used to link the dozen locations around the country with the production teams at the IBC.
Material from each venue will be transcoded, transferred into an Amazon cloudbased infrastructure, and will hit the central servers in around 45 seconds. The servers automatically generate proxy files, allowing the remote teams to access content at low resolutions, create clips and then import a high-bandwidth version.
Much of the extra 1,500 hours of content from this year's tournament will be swal-lowed up by the second screen, with Fifa estimating that up to 50 million people worldwide will download its offi cial app.
A range of packages are available to MRLs, starting with a white-label app to which broad casters can simply add their own logo. Picked up by more than 100 worldwide so far, it allows viewers to access up to six live camera angles, clips and key action from a game, and statistics supplied by Deltatre, the data partner for the tournament.
Universal challenges
C-Cast Central manages the availability of material via APIs, which means that beyond the whitelabel systems - plus a customisable web player based around Deltatre's Diva software - many major broadcasters around the world are folding the C-Cast streams into their own apps.
There are different routes to follow: ITV will concentrate on feature material within its app, while others are focusing on live footage. BBC Sport director Barbara Slater wants Brazil to be the broadcaster's "first truly 24/7 World Cup", delivered via traditional and digital platforms.
BBC Sport executive producer Phil Bigwood says: "These events are so much bigger than just TV nowadays, for us it's about joining up the various different platforms. We're building on what we've done with social media on Match Of The Day around the live games, and are planning to do more."
Bigwood says the main challenges have been around the infrastructure, the bureaucracy and the logistical challenges of working in Brazil. "I've done a few World Cups and this one has defi nitely thrown up more challenges than most. But as ever we're cracking on with it and as we sit here now it's all looking good," he says.
The BBC and ITV are both using a fairly standard Avid/EVS production set-up in Brazil, with ITV sport technical director Roger Pearce promising a few "innovative tricks up our sleeves that will enhance they way we tell the big stories".
The main technical challenge has been the 60Hz to 50Hz frame-rate conversion, which is why the BBC and ITV are both operating as full 1080i 59.94 operations in Brazil, with standards conversion occurring on the fly.
For ITV, all production is located in Brazil, with Gearhouse Broadcast delivering additional facilities in the IBC, including production office, master control room and transmission gallery.
ITV has also commissioned a studio located on the iconic Copacabana beach and full talkback capability between the two sites. The BBC, meanwhile, has partnered with HBS for the main presentation and production areas, and is primarily based at the IBC.
"It's a recognition of the challenges that everyone's facing," says Bigwood. The BBC is also using a split production model that balances the cost of having people on site with the considerable cost of enhanced connectivity back to the UK.
The primary part of the network output is based in Brazil, while all the BBC's multimedia operation, including red button content, highlights and news, will be based in Salford and put together via remote access into the Fifa Max and the BBC's own servers.
If England progress beyond the group stages and into the knock-out part of the tournament, broadcasters will have to react quickly.
"We are reasonably experienced in coping with England's rock-strewn path to glory," says Pearce. "It is essential to have good basic systems in place to cover all outcomes and be prepared for a lot of fast and complex operational replanning."
4K One year on from the Confederations Cup
Initially destined for a post-tournament souvenir online release, Fifa has since made indications that "more than one broadcaster" will transmit the 4K World Cup feed, with the BBC using the tournament as an opportunity to test its hybrid approach to 4K delivery.
Three matches - a quarter, semi and the fi nal - will be captured in 4K, all from Rio's Maracanã Stadium, the same venue where Sony conducted trials in the format at last year's Confederations Cup.
It's a large stadium and the 4K production can occupy its own camera positions without incurring seat kill penalties, while also chiming with the 'move people not kit' paradigm of the rest of the tournament.
The Confederations Cup tests significantly advanced production techniques in the format, helping to ensure they were robust enough to be considered for the World Cup.
However, the Telegenic OB unit they relied on is busy this summer and the matches will be routed through a newly refitted 4K-capable Globocast truck, albeit with a Telegenic crew.
The matches will probably represent the most populated camera plan of a 4K production yet, with 12 Sony F55 cameras equipped with Fujinon lenses earmarked for each game. A number of the speciality cameras from the standard HD broadcast will also be upconverted on the fly for the occasion.