Telegraph Hill picked up two awards at last night's inaugral Broadcast TECH Young Talent Awards, with James Emtage winning in the Producer category and Geraint Abbott scooping the Editor award.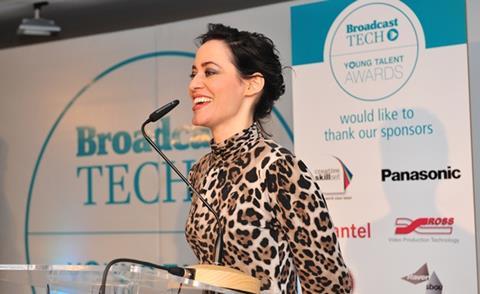 The awards honoured those under 30 who work with technology in the fields of production, post and delivery.
The ceremony took place at the Hospital Club and was hosted by BBC Click presenter LJ Rich.
Camera operator/grip
Sponsored by Panasonic
Winner: Robbie Pettigrew (Atlantic Productions)
Highly commended: Joe Willis (Freelance)
Engineer
Sponsored by Ross
Winner: Duncan Parker (BBC Natural History Unit)
Highly commended: Paul Evans (Arqiva) and Lloyd Mattock (Twickenham Studios)
Colourist
Sponsored by Quantel
Winner: Robert Bates (Sequence Post)
Highly commended: Jason Wallis (The Look)
Sound production
Winner: James 'JJ' Benson (Freelance)
Highly commended: Joe Harris (Freelance)
Sound Post
Winner: Nicholas Ashe (Molinare)
Highly commended: Caroline Robinson (Twofour Group) and Jay Price (Freelance)
Producer
Sponsored by The Hospital Club
Winner: James Emtage (Telegraph Hill)
Highly commended: Natalie Reid (Milk)
Runner
Sponsored by Production Base
Winner: Jack Whitney (5a Studios)
Highly commended: Mark Hills (Soho Square Studios)
Editor
Sponsored by Soho Editors
Winner: Geraint 'Geggs' Abbott (Telegraph Hill)
Highly commended: Richard Dudley (Sequence Post)
VFX
Winner: Jason Brown (Milk)
Highly commended: Dale Titterton (ITV News)
Women in technology
Sponsored by Ravensbourne
Winner: Helen Strous (LipSync Post)
Special achievement
Sponsored by Deluxe
Winner: Sarah Thornley (BSkyB)
Highly commended: sam Butler (Dock10)