Riverside Studios is winding down operations before the west London studio complex is flattened and redeveloped.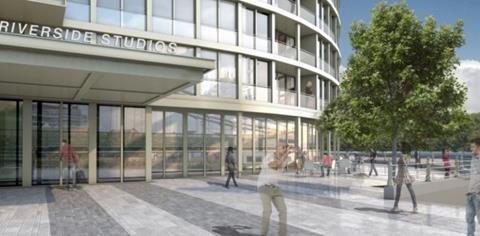 Hungry Bear's 1,000 Heartbeats will be the final production to shoot at the Hammersmith facility before it closes on 6 September ahead of a three-year rebuild.
The arts complex, which hosts theatre performances, cinema screenings and provides space for TV productions secured planning permission to rebuild the site shortly after it announced that it was to turn one of its multi-use spaces into a 300-seat TV studio in response to demand for central London production space.
The existing studios and the neighbouring derelict Queen's Wharf building will be replaced by a single, eight-story building across both sites that will house TV and theatre studios, a 200-seat cinema and some 165 apartments.
"The original building dates back to 1890, so it's not exactly fit for purpose," said Riverside TV Studios owner and technical director Duncan Stewart. "The new build will be ideal for way we want to operate."
Stewart said the new complex's Studio 1 will be "slightly bigger" than the existing facility.
"It will be designed from the ground up to a much higher standard as state-of-the art studio space that will operate more efficiently, with adjacent production rooms. It will be built for purpose and not a conversion of existing space."
Studios 2 and 3 will operate as dual-purpose TV and theatre production space.
"Studio 2 will still be able to accommodate medium-sized shows like C4's Weekend Kitchen but there will be times when theatre productions are based there. Studio 3 will predominantly host theatre but it will be equally capable of TV. At 1,600 sq ft it will be ideal for more intimate productions and presentation links," added Stewart.
Shrinking central London space
The temporary closure of Riverside TV Studios will further reduce the amount of TV studio space in central London. Last month, BBC Studios and Post Production (BBC S&PP) revealed that it would not return to a redeveloped Television Centre until 2017.
That announcement was followed by Wimbledon Studios managing director Piers Read's decision to quit the south London facility last week, following an investment row with Wimbledon's parent firm which he said left the future of the studios in doubt.
Stewart said that with "two studios worth of kit", Riverside is working towards finding alternative premises that will allow it to continue to host TV productions. An announcement about a potential new home is expected in the next few weeks.