"Pressure is a privilege," is the mantra that tennis champion Billie Jean King has bequeathed to Serena Williams, and the world's number one tennis star never felt that pressure as keenly as she did during the 2015 season.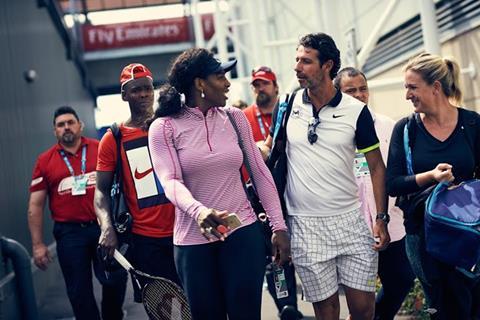 Dir: Ryan White. UK/US. 2016. 95 mins
Serena is a rousing portrait of the champion as she attempted to score a calendar Grand Slam and match the record-breaking number of 22 titles held by Steffi Graff. The fact that there was no fairytale ending to Serena's quest adds a note of poignancy to a documentary that will be essential viewing for tennis fans on sports channels, and perhaps theatrically as a special presentation in territories where Grand Slam contests are staged.
The adjectives traditionally attached to Serena Williams would probably include aggressive, intense and driven, yet director Ryan White's extensive access allows him to capture some more intimate moments. We glimpse her in playful mood singing along to a Madonna track, heading out for a karaoke evening with pals and painting as a means of total relaxation.
We do also see Serena's intense side, in a documentary that underlines just what it takes to become and remain a champion in the modern age. Williams' sense of focus and dedication are tremendous, and she is surrounded by coach Patrick Mouratoglou, agent Jill Smoller, chef Annie, physio Flo, co-ordinator Zane, best pal Val and various members of her close family. There seems to be a small army devoted to keeping "brand Serena" on the road although, in many respects, she lives a surprisingly modest life; winning her 20th Grand Slam title at Paris is celebrated with a Chinese takeaway, an early night in bed and viewing The Little Mermaid on her laptop.
As White's documentary is structured around the year in which Williams attempted to win the Australian Open, the French Open, Wimbledon and the American Open, the main focus is on her preparations and the gladiatorial element of the matches. The filmmaker does leave enough space to stray on to other topics, including the prejudice Williams has faced as a powerful African-American woman who has frequently been made to feel an outsider by elements of the tennis establishment and even tennis fans.
Ludicrous accusations that she was too muscular to be a woman are even briefly revisited. We are also privy to the difficulties Serna has in playing in a match opposite her sister Venus and the challenges of staying at the forefront of her game as she approaches 34, an age that is traditionally considered the twilight of a top ranking tennis career.
As Serena follows the player her from training session to tennis court, hotel room to television studio, no great revelations emerge, but what we do see is Williams' vulnerability and the pressure that she places on herself; from battling through illness to win in Paris to just wanting to hide from the world after her US Open defeat. Intriguingly, Williams does admit that she plays better when she is angry. Other players are often thrown off their game when unchecked emotion takes a hold but for Williams it is a way to channel everything into a single focus on victory.
Fittingly, for someone so determined, the film ends with Serena receiving an award as Sports Illustrated's Sportsperson of the Year in 2015 and reciting her favourite poet Maya Angelou's inspirational Still I Arise. Serena may be nudging 35 butm on the basis of the personality revealed in this documentary, nobody would bet against her still making that Grand Slam dream a reality.
Production company: Film 45
International sales: Fremantle Media International Jamie.lynn@fremantlemedia.com
Producers: Ryan White, Matthew Goldberg, Brandon Carroll
Cinematography: Ryan White, David Jacobson, Stu McCardle, Jean Bernard Rutagarame
Editors: Helen Kearns, Kate Amend
Music: Blake Neely