Digital Imagining company DI4D is using Siggraph 2017 to showcase what it describes as the highest fidelity facial performance capture system.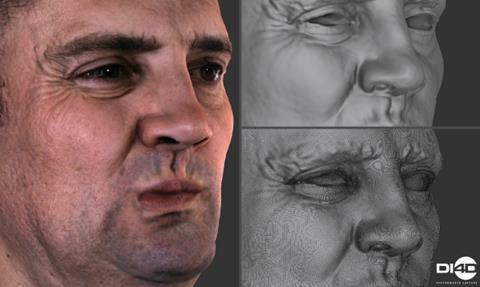 The company, which has offices in Glasgow and LA, utilises proprietary motion scanning technology to capture 4D data consisting of 3D surface scans tracked with what it calls "a dense fixed topology mesh."
DI4D's facial performance capture system, called DI4D PRO, doesn't require markers, make-up or structured light. The company says enhancements to the system, including the camera resolution and software improvements, result in every nuance of an actor's facial performance being recorded.
In the latest iteration of DI4D PRO, nine synchronised 12 mega-pixel video cameras capture the 'higher fidelity' 4D data. As Dr Colin Urquhart, CEO of DI4D explains: "We've increased the resolution of cameras used on one of our DI4D PRO systems by a factor of four, from 3 to 12 mega-pixels, and have also significantly enhanced our 4D processing and mesh tracking software."
"As a result, we can capture much higher fidelity data and track even denser meshes than with our current DI4D PRO system. This ensures we can satisfy the requirements of even the most demanding of movie visual effects projects."