Union VFX has recruited three new VFX supervisors - James Etherington-Sparks, Mark Michaels and James Roberts – to enable it to take on an increase in both film and television work.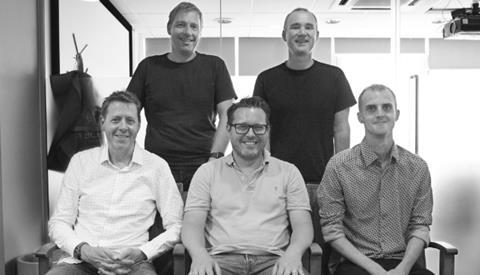 Etherington-Sparks (bottom row, middle) has previously worked at Cinesite, Clear and The Mill. Most recently he spent 10 years at Double Negative. He has been a VFX supervisor for the last seven years and his TV credits include season one of Sherlock, for which he received an Emmy nomination and Downtown Abbey. Michaels (bottom row, left) also has an extensive background in VFX, having held positions at Digital Domain, Cinesite, The Mill, MPC and Double Negative on both sides of the Atlantic.
Meanwhile, Roberts (bottom row, right) becomes VFX supervisor after being promoted internally at Union. He first joined the company in 2012 where, over the last few years, he's done an increasing amount of on-set supervision. He is currently working on his second project as VFX supervisor.
"James (Etherington-Sparks) and Mark are a great fit for both us and our clients and it's also really rewarding to be able to promote some home-grown talent in the form of James Roberts," said co-founder and executive producer Tim Caplan.
Union VFX's recent TV work includes Oasis, a pilot for Amazon Studios, produced by Left Bank and featuring Richard Madden. It is currently working on Outlander and "a really exciting TV project for FX that we can't name yet" a company spokesperson told Broadcast.
A link to the breakdown reel for Oasis is on the right.