Gaining access to this notoriously publicity-shy band was the holy grail for a fan like me – but my ambitious plans to capture a live concert really stretched our budget, says Mike Christie
Production company Caravan
Commissioning editor Bill Hobbins
Length 1 x 90 minutes
TX 22 September, 9pm, Sky Arts
Producer/director Mike Christie
Executive producer Dinah Lord
Production manager Nadine Limb
Senior editor Dan Setford
Post houses Manor Services; Sky Post Services
When Caravan managing director Dinah Lord called me about this project, her first question was: "Have you heard of New Order?" I laughed. I couldn't help it.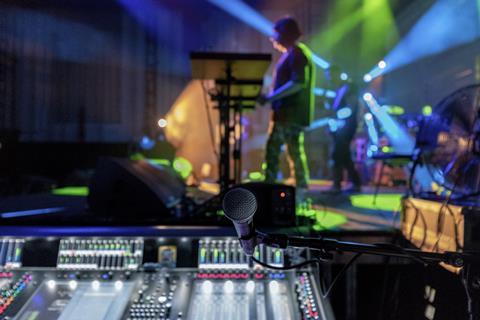 Like most other 40-somethings from Manchester, I'd spent at least an eighth of my life on the dancefloor at The Haçienda. She explained that Caravan had access for a Sky Arts documentary. I stopped laughing.
I knew this band didn't really 'do' documentaries. It had taken Caravan a year, but gaining access to this famously publicity-averse group was the holy grail.
New Order were re-staging So It Goes, the stunning concert they had created for the Manchester International Festival 2017, and this presented us with a rare opportunity to enter their private world.
Sounds simple, but the show was designed by renowned conceptual artist Liam Gillick and staged with a synthesiser orchestra made up of young musicians from the Royal Northern College of Music – and it was all happening in 12 weeks' time.
"With a 40-year career to peer into, plus a conceptual artist, 15 young musicians and a live event to capture, this was going to be a balancing act"
New Order don't particularly like nostalgia, but as they were rightly proud of the project, they could cope with some biographical context in order to have it documented.
With a notable 40-year career to peer into, plus a conceptual artist, 15 young musicians, a conductor, a sizeable live event to capture, a mere 45 minutes of documentary time and just three months to make it, this was going to be some balancing act.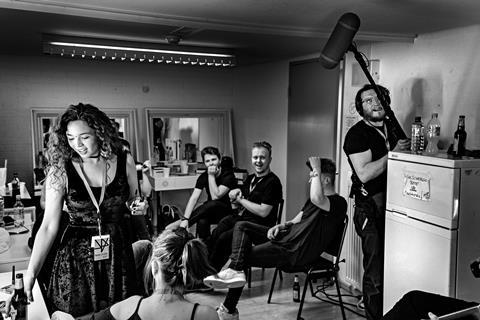 I must admit, I got ambitious. Really ambitious. The budget allowed for a brief doc shoot and a few cameras to capture the concert, but we ended up with an 85-minute special, shot on 17 cameras, featuring six full-length New Order songs – they ain't short – plus possibly some of the most open interviews with the band ever recorded.
Would you believe an arts budget would stretch that far?
Luckily, my aforementioned higher qualification in Manchester music meant we could work with a minimal production team.
Along with Dinah and Caravan production manager Nadine Limb, I set about a dual task: a lean and mean doc shoot in Manchester, New York and Turin with New Order and Liam Gillick, followed by a cleverly planned, guerrilla-style but more expansive concert shoot in Vienna.
It all seemed quite fitting, yet very risky and punk – so naturally, New Order loved it.
Mike Christie - My tricks of the trade
Make sure the team really matches the project's needs, not just a budget template.
Spend real time on the narrative plan. Make bad drawings, write a detailed running order and talk it through with the whole team so they understand the big picture.
Embrace the random and chaotic stuff that arrives in the moment. Things that you can't control often produce the most brilliant outcomes.
Make sure you're scared by something in every project. If it's straightforward, it's probably going to be boring.
Trust your instinct.
Wear sunscreen. Baz Lurhmann was right.
I decided the concert songs should be pillars distributed throughout the film – who wants to wait for half a feature-length film to get to the music? Between the songs, the doc scenes would be flashbacks to the weeks before as the show was being put together.
Within those flashbacks, I'd also venture into the historical, biographical elements and the past would catch up with the present at the end of the film. Yep, as if it wasn't complicated enough, I decided the whole film should be atemporal.
The documentary shoots required precision to capture five specific scenes over a handful of weeks. I didn't quite bank on the fact that Liam's New York apartment is next to the UN, which wreaked havoc on the radio mic frequencies.
Added to that, the Osmo mini-gimbal camera looks like a weird gun, so shooting exteriors was a bit sketchy. However, we bagged the scene.
Then came Vienna. We'd had a quote for shooting the concert 'properly' – a big truck and six old-school concert cameras. It would cost 70% of the budget and was a non-starter – I only had 15% of the budget to shoot the show.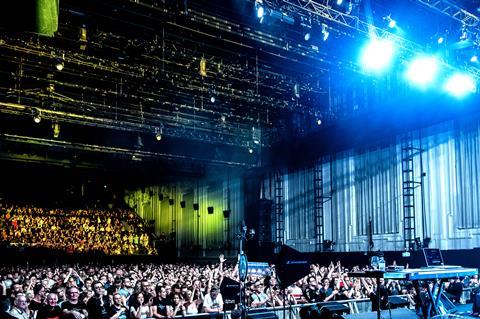 So following my long-held tradition of shooting sports films with arts crews and vice-versa, I put together a camera team mainly made up of my ace parkour action shooters; my trusty editor Dan Setford; a rigger with 10 GoPros; and a sound recordist who somehow interfaced a multitrack of 18 live musicians with timecode across all 17 cameras.
Then we shot the gig over two nights. It was intense.
In just three months, we made an 85-minute special that I think captures the essence of one of the most unique bands ever. It's an unusual hybrid of performance and documentary, but somewhere in the risk, trust and invention, we produced a film that mesmerises, entertains, informs and inspires.
It took three generations of musicians, crew and artists and it was only on the final day that I worked out what the final scene and film title needed to be. It had been a collaboration that was decades in the making.
CAPTURING THE CONCERT ON A BUDGET
Dan Setford, senior editor
I confess – I am a massive New Order fan. Without a doubt, it's rare opportunity to work on a project where you completely love the subject matter.
Mike always has a clear vision for his projects. His treatments are blueprints for narrative, shooting style and the edit. In this case, there were technical challenges. He wanted to shoot a high-end concert film on a fraction of the budget, using a mixture of cameras and shooting formats with a bunch of his parkour mates – an editor head-in-hands scenario.
But any reservations I had were immediately brushed aside when I met the brilliant camera team.
Mike is a very technical director and has a clear understanding of workflow. He dragged me to Vienna, which allowed me to get my head around the complex camera geography of the shoot.
Sound recordist Richard Thomas used a SyncBack system to match the timecode between musicians, lighting and all 17 cameras, which over two nights created a cool 34 camera angles.
They weren't all used at the same time: Mike wanted to reflect Liam Gillick's ideas, one of which was based around voyeurism, and he varied the angles in each song to slowly shift from an audience point of view to the perspective of the synth orchestra.
FEARLESS APPROACH
But what enhanced the slick style of the film even further was the parkour camera operators, who added fl are and dynamic movements to the shoot, adhering to a no-fear attitude, jumping in with the audience to create this beautiful, intimate atmosphere.
The only thing left to do was edit this wonderful beast. With Mike's modular approach, a great edit assistant, the support of editors Rich Lester and Gwyn Moxham, and a brilliant score by Ian Masterson, it came together.
The band's humour shines through and what could easily have been a moody, reverential film is upbeat and fun. It was a joy and a privilege to edit.