Sony has added the PXW-X400 to its line-up of shoulder-mounted broadcast cameras.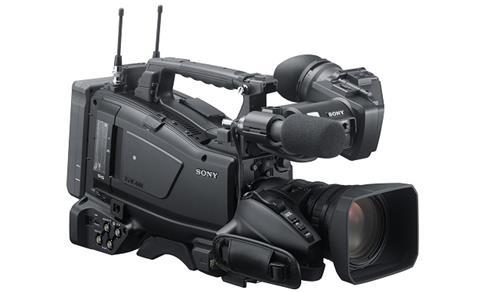 The PXW-X400, which includes XAVC 50p recording and pool feed functions, will be available from February next year.
"This new camcorder combines all the capabilities professional shooters need – enlarged connectivity for content faster to air, improved ergonomics for easier operation on the field, and high performance for efficient workflows – in a true news and broadcast production workhorse," said Lucie Wendremaire, product marketing manager, Sony Professional, Sony Europe.
The pool feed function (HD/SD SDI) enables the recording of a 1.5G HD-SDI external signal on an SxS card from another camera on-site without the need for a portable deck.
The camcorder's Ethernet interface (RJ45 connector) enables connection to a network for file transfer, live streaming and control from a web browser when wireless LAN is unavailable.
A near-field communications (NFC) feature gives users a one-touch link between the camera and a mobile device.
Sony said the redesign of the the inner structure of the camcorder body had "drastically" improved the weight balance and handling capabilities compared to previous models.
The combination of a newly introduced manual lens and the redesigned body had resolved any front-heavy issues and helped to reduce the load on an operator's right-hand, the manufacturer added.
The camcorder's 'Online' button lets users bypass a mobile device or the camera menu for direct on/off control over a range of features including direct streaming transmission of AV signals from a PXW-X400 to assigned destinations; auto-uploading of proxy or high-resolution files to cloud services and FTP servers; and on/off control over Sony's PWS-100RX1 network station.
The PXW-X400 uses a 2/3" 3-chip CMOS image sensor and supports several HD and SD formats, including XAVC.
Lens options include a 20x manual focus lens (PXW-X400KC model) and a 16x auto focus lens. Auto focus capability will be available in May next year.
The PXW-X400 model is body-only with neither lens nor viewfinder. It is compatible with Sony's new HDVF-EL20/EL30 HD OLED viewfinders.