Sony's high spec digital cinema camera launch
Sony has released details of its new 6K CineAlta camera, Venice at an event at Sony's Digital Motion Picture Centre at Pinewood Studios, after weeks of teaser hints about its features on social media.
The camera sits alongside Sony's existing CineAlta range, including the F65, F55 and F5, and is the first CineAlta model to be built around a 36x24mm 6K full-frame sensor.
It is compatible with anamorphic, Super 35mm and full-frame PL mount lenses. The lens mount can be changed to handle E-mount lenses, too, when smaller, lighter, wider lenses are required.
Future firmware upgrades are planned to make it possible to shoot 36mm wide 6K resolution. Additionally, optional licenses – permanent, monthly and weekly licenses – will be available and sold separately to expand the camera's capabilities with new features including 4K anamorphic and full frame, each sold separately.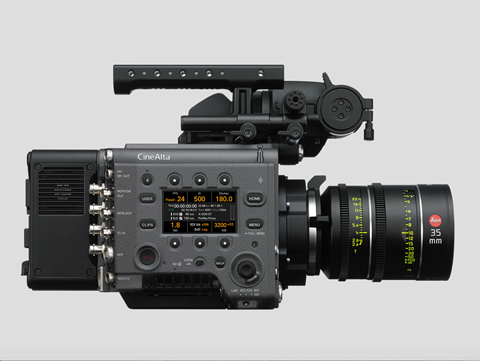 Sony says the camera has been "designed through close collaboration and careful research with the creative community" and captures "natural skin tones and expressive dark areas."
The camera features a new colour management system and wide colour gamut, and it has more than 15 stops of latitude to handle lighting situations from low-light to harsh sunlight.
Like the F55 and F5, Venice has a modular design, to enable flexibility in its setup and operation. It is compatible with all current and upcoming hardware accessories for CineAlta cameras.
It has the "intuitive" control panel on the left and right sides of the cameras, and a 24 V power supply input/output and Lemo connector enable the use of many standard camera accessories.
"We've not only focused on features to deliver the most true to life images, including colour reproduction for natural skin tones. We also thought about the best usability and operability, without compromising on quality."

Sebastian Leske, Product Marketing Manager, Cinematography, Sony Professional Solutions Europe
The Venice will be available from February 2018. Pricing has not yet been released, but Red Shark News report it will be around €37K for body only.