Think of a breakthrough recording artist of the past 25 years and the chances are you saw them first on Later… With Jools Holland.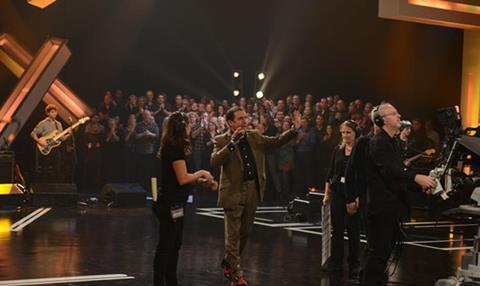 BBC Studios for BBC Two
From Portishead to Adele, Stormzy, Arctic Monkeys and Christine & the Queens, they all got their TV break on BBC2's long-running music show.
Its commitment to showcasing new artists alongside music legends in its eclectic weekly line-up is key to why it still feels so fresh after more than 350 episodes.
Coupled with Holland's low-key presenting and interviewing style, and exuberant piano collaborations, it's a recipe that has survived intact with very little tweaking since it began life in the Late Show studio back in October 1992, while after 25 editions, the Hootenanny continues to usher in each new year in style.
Former The Tube host Holland has never missed an episode; nor have the show's creator and director Janet Fraser-Cook or producer Mark Cooper. They've built up a production family behind the scenes, with everyone from series producer to lighting director and floor manager sticking with the show year in, year out.
Nevertheless, it hasn't stood still. The biggest innovation was the addition in 2008 of a 30-minute Tuesday night live show, which offers a quick snapshot of the longer Friday night show's line-up, capturing the energy of the guests' performances in the moment and warming them up for the extended show immediately afterwards.
FACTFILE
25 years
49 series
350+ episodes
150 live episodes
1,500+ artists
Meanwhile, in April 2013, after 20 years at BBC Television Centre, it moved out to Maidstone Studios, which will host series 50 from April.
Will it ever eclipse Top Of The Pops' 42-year run, or US show Austin City Limits' 41 years and counting? Don't rule it out. It is, says Holland, "the best job in the world".