Sponsored content
Find out more
Independent post-production company Splice offers online and offline editing, dubbing and grading at two facilities in London.
In early 2018, following a move to the regions by one of their key clients, they decided to open their first Cardiff facility. We were on hand to make sure they got their usual high spec workstations, support their Avid workflow, and set them up with a remote link to their London offices…
Extending an Avid workflow from London to Cardiff
With a mixture of online, offline, grading and dubbing suites at the Cardiff facility, the Splice team needed several different models of workstation, optimising for various key pieces of software.
"We were trying to mimic what they have in London, so we took advice from Jigsaw24 on what the specification for different workstations should be," said Operations Manager Sam Linforth.
"We have a long term relationship with Jigsaw24, and their knowledge of our systems goes back a long way, which makes them invaluable to the way we run."
We set the Splice team up with Avid-accredited HP workstations, which Splice prefer because of their stability and power.
"We work consistently with Avid and HP across all three of our sites because we've always found them to be extremely stable and robust systems. When you're integrating them with Avid's own storage, the extra stability is a massive plus, as well as the ability to have multiple people accessing the same projects and working across the same media."
As part of the initial setup of the Cardiff facility, we worked with Splice to install 100TB of Avid NEXIS storage, which was "a natural progression for us from our previous ISIS storage, and very easy to install," according to Sam.
"We've found it very reliable and very scalable – to add new storage to it has been very easy. For us, it's the only storage we'd choose."
"Jigsaw24 are a great team to work with. When you get to the point when you have to escalate something or need a second opinion, they've got a vast amount of knowledge to share, and that's been invaluable to us."
Sam Linforth, Operations Manager, Splice
"The biggest challenge in this scenario is getting all the sites connected to each other and talking in the best way possible."
Opening their first facility outside Shoreditch has obviously posed challenges for Splice's technical team.
"The biggest challenge in this scenario is getting all the sites connected to each other and talking in the best way possible," said Sam.
Splice's plan was to use a KVM (keyboard, video and mouse) solution that would allow editors in suites across the country to connect to centralised storage and processing power to complete any job that needed picking up, regardless of which facility had originally worked on it.
After consulting with our experts about the KVM options available to them, they chose Amulet Hotkey, a system that's proving increasingly popular in the creative industries due to its reliability and stability.
"The Amulet Hotkey system is invaluable to us, as we're not a 24 hour facility and the London offices are, so in the evenings those editors can pick up work we couldn't otherwise do, said Sam.
"Jigsaw24 helped us set all that up: they gave us advice and shared all their knowledge with us, which is what led us to choose Amulet Hotkey as our KVM solution, and supported us putting it in."
"Jigsaw24 have been invaluable to the way we run this facility."
Splice receive ongoing remote support from our engineering teams in London and Nottingham, including our team of Avid Certified Support Representatives. Our local Cardiff consultants are nearby should they need anyone onsite in an emergency.
"Support is essential to a company like Splice," said Sam. "We're quite a big facility, and to have a company at the end of the phone who can remote onto our systems when things get a bit tricky or we've hit a problem and don't know how to move forward is really helpful. Jigsaw24 have been invaluable to the way we run this facility, and we've never had a problem they couldn't solve."
To find out more about how we can help design and support your facility, get in touch on the details below.
Call: 03332 409 210
Email: broadcast@Jigsaw24.com
Visit: Jigsaw24.com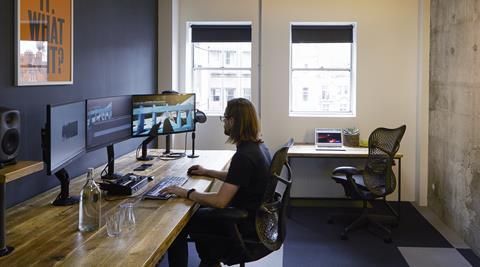 Meet Splice
Who are they?
An independent post company with two facilities in London and a new office in Cardiff, responsible for work on the likes of MasterChef, Plebs, England is Mine and Damned.
What did they need?
Splice were opening their first regional facility in Cardiff. They needed an IT partner who could make sure the new site was equally as capable as the first two, and who could advise on building a remote link between the three facilities.
How did we help?
We specced, delivered and supported high-powered HP workstations, as well as providing advice and support for the facility's Avid workflow, including 100TB of NEXIS storage. We also developed and installed a KVM (keyboard, video, mouse) solution that would allow the Cardiff facility to connect remotely to Splice's London premises.
What are the benefits?
· Splice are able to provide regional support for key clients.
· Editors in London can connect to the Cardiff facility to enable 24 hour working.
· The facility has robust, scalable storage systems and edit suites which can easily be upgraded as technology develops.
· Splice Cardiff has reliable ongoing support.
"There's such a buzz around the city, it has a real cosmopolitan feel about the place. I grew up in Cardiff, so it's fitting that Splice's first venture in the regions and nations is here," said Company Director Damian Dolniak.
"It was really important to make sure the facility is as reliable and as well infrastructured as our sites in London."