Producer picks up three-year deal to cover the Mercedes Benz UCI Mountain Bike World Cup for Red Bull TV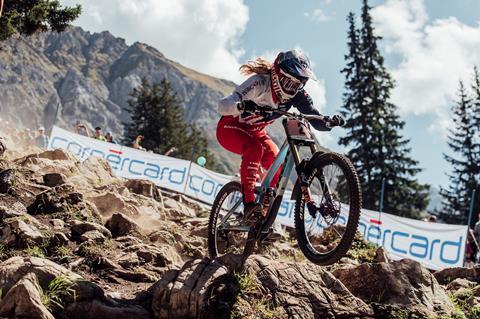 Sunset+Vine has won a three-year contract with Red Bull Media House to produce content for the Mercedes Benz UCI Mountain Bike World Cup. The deal covers 10 events per year, beginning with this weekend's event in Maribor, Slovenia and running through to this year's final event at Snowshoe, USA in September.
Sunset+Vine will be responsible for bespoke programming for Red Bull TV; creating content for Red Bull TV's digital and social media platforms and the world feed of the downhill, cross country and cross-country short course.
The production company's work with be led by exec producer Sarah Greene. The series producer is Jamie Aitchison; the series directors are Westbury Gillett and Oliver Moser, and Lucy Bellamore is the series production manager. The coverage will be presented by ex-downhill specialist Rob Warner.
Andrew Preece, executive director at Sunset+Vine, said: "The chance to work with such a disruptive and innovative media company, to tell the stories of the UCI Mountain Bike World Cup, is an opportunity that we really relish as we bring our live and editorial expertise to mountain biking."
Sarah Greene, executive producer at Sunset+Vine, added: "The courses are jaw-dropping and the competitive talent and skill on display is amazing – it's everything you would expect and more from sport at this level. It is shaping up to be one of the most exciting events we have worked on."
The full calendar for the Mercedes Benz UCI Mountain Bike World Cup 2019
• Maribor, Slovenia (27th-28th April 2019)
• Albstadt, Germany (18th-19th May 2019)
• Nove Mesto Na Morave, Czech Republic (25th-26th May 2019)
• Fort William, Great Britain (1st-2nd June 2019)
• Leogang, Austria (8th-9th June 2019)
• Vallnord, Andorra (6th-7th July 2019)
• Les Gets, France (13th-14th July 2019)
• Val di Sole, Italy (3rd-4th August 2019)
• Lenzerheide, Switzerland (10th-11th August 2019)
• Snowshoe, USA (7th-8th September 2019)