It will be used for the first time at the Qatar Grand Prix this weekend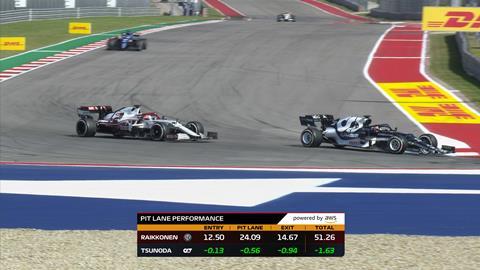 Amazon Web Services will launch its Pitlane Performance graphic for F1 at the Qatar Grand Prix this weekend.
The graphic will measure the performance of each team during pit stops, showing viewers at home how much time racers have gained or lost on their rivals in the different phases of the stops.
F1's director of data systems, Rob Smedley, explained: "We've really enjoyed putting this graphic together. What is clear is that the great drivers out on the track also happen to be the great drivers in the pit lane. It's another F1 Insight powered by AWS that gives us more information to be able to better engage and enjoy the race.
Rob Semdley's five pitlane phases:
Phase 1 – Here the driver is still on the normal racing trajectory within the track but is starting to move away from the optimal racing line as they approach the pitlane entry.
Phase 2 – The driver, after having navigated the first part of the narrower pitlane entry now is required to decelerate down to the pitlane speed limit (80 or 60 kph depending on circuits)
Phase 3 – This phase is between the pitlane entry and the pitlane exit lines. The driver travels down the "fast" lane at constant speed before approaching his pit crew. They then need to brake into the pitstop position where the car is serviced before accelerating and re-joining the fast lane at constant speed.
Phase 4 – The driver disables the pit lane speed limiter at the pit exit and then re-joins the racing line, positioning the car for braking into the first corner.
Phase 5 – The driver now needs to extract the maximum performance from the car in the first corner, bearing in mind that the tyres are not yet at optimal working condition.
"As with the other insights, it gets us further under the skin of Formula 1 racing and allows us into the world of the teams where every millisecond counts especially in the pressure cooker environment of race strategy where the pit stops can win and lose Formula 1 Grand Prix. Enjoy."
The Pitlane Performance graphic is the latest of six new insights that AWS is creating for F1 this season, which are integrated into races' international broadcast feeds around the globe, including F1's digital platform, F1TV.
As well as the new graphic, the Qatar Grand Prix will be the latest venue for Lewis Hamilton and Max Verstappen's intense title race. Hamilton pulled off an incredible victory in Brazil last weekend after being disqualified from qualifying, and will be looking to close the gap on his rival again this time round.