Tagboard will help UFC to integrate behind the scenes footage and enable cross-channel storytelling opportunities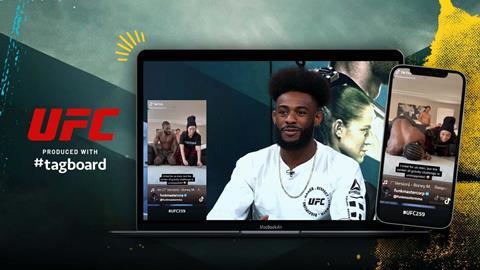 UFC has partnered with Tagboard to bring content from its TikTok channels to its linear broadcasts.
The organisation regularly posts exclusive behind-the-scenes and other footage on to its social media channels, which it will now integrate into its on-air storytelling with Tagboard's cloud production platform. TikTok challenges are another aspect that could be boosted by linear exposure.
The platform has one-click integration with TikTok, which allows producers to source real-time content. UFC is the third-most followed sport league on TikTok with 6.3 million followers, and this deal comes after it agreed a deal with the social media platform to deliver exclusive weekly live streams.
UFC's first TikTok and linear integration came last month, showing current UFC bantamweight champion Aljamain Sterling's life outside of the Octagon. It will be used again on 10 April on ABC for UFC Live during the Sam Alvey vs. Julian Marquez fight to feature TikTok content from athletes, fans and influencers including pre and post-fight commentary.
David Shaw, senior vice president of international and content, said: "We are diving into our partnership with TikTok in a big way, by not only bringing content to our fans on their platform, but also by utilizing athlete and fan generated content to tell stories across our linear broadcast."
Tagboard president Nathan J. Peterson added: "Our partners at UFC and TikTok have challenged us to help them think through the most innovative ways to tell stories across both broadcast and the TikTok platform."
Tagboard also provides cloud capabilities to produce interactive content for programming on linear, pay-per-view, digital, and social channels.