High dynamic range streaming in UHD 4K breakthrough on BBC iPlayer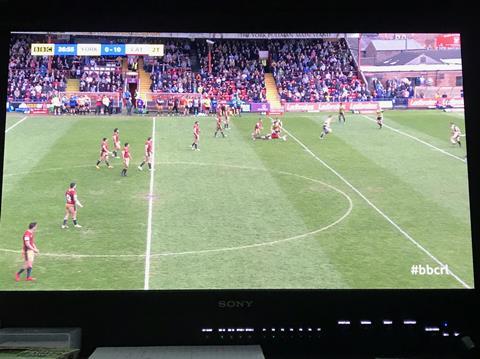 The BBC has live streamed a Rugby League match in UHD and HDR on the BBC iPlayer Beta. The match, between the York City Knights and Catalans Dragons, was the first time the BBC has streamed a live event in such high quality.
The BBC streamed in Hybrid Log-Gamma (HLG) HDR, which was co-created by BBC Research & Development and Japanese broadcaster, NHK. The same bitstream was used for both the HDR and standard dynamic range (SDR) versions.
In a post on the BBC's Technology & Creativity Blog, BBC R&D head of broadcast and connected systems, Phil Layton, said: "HLG fits in very well and reliably into existing live production workflows. It also provides a great picture not only to HDR devices, but to SDR devices."
"Being able to support both HDR and SDR TVs with the same bitstream is cost-effective for the BBC and makes the content available to as wide a range of devices as possible," he adds.
Layton said streaming live UHD footage "presents significant engineering challenges for our teams. High quality real-time HEVC encoding of UHD is still in its infancy and is much more demanding for live programmes than for on-demand. That means we need to use higher distribution bitrates, and that people's TVs will need to work harder to show the best picture."
Following this latest experiment, the BBC is now looking at the results to help "build our understanding for how we might be able to provide live events in UHD in the future," said Layton. The BBC has previously provided on-demand and live streamed UHD content via the BBC iPlayer, including Blue Planet II , which was available in UHD HDR on-demand.