Lighting company provides LED fixtures for redesigned set for Comedy Central UK reboot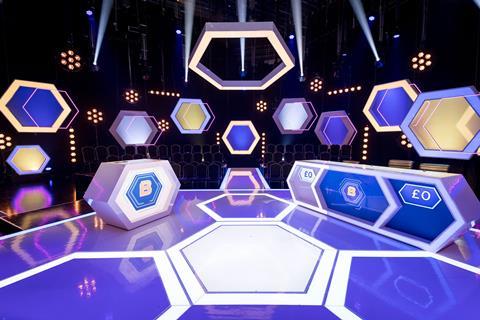 Specialist illumination company LED Creative provided the lighting for the new set of Blockbusters, which has been rebooted by Comedy Central UK.
Filmed in front of a live studio audience at BBC Studioworks' Studio D at BBC Elstree Centre and presented by Dara Ó Briain, the set has been given a contemporary facelift, although it still retains key elements from the original, including the infamous Gold Run and original 80s theme tune.
Created by scenic designer Josh Grace, the set features an array of hexagonal lightboxes, with offset LED frames, suspended throughout the design.
The internally lit hexagons flown above the set are illuminated using LED Creative Sigma 60 LED. These are paired with LC's BYTE Controllers allowing management of intensity and colour, including the reproduction of the show's signature blue and gold hues.
The LED illumination works with the halogen warmth of the Portman P1 retro lights interspersed across the studio by lighting designer Gemma O'Sullivan.
LED Creative's Ges Smith said: "The team at Blockbusters have done a fantastic job in building a stunning contemporary look that perfectly reflects the feel of the original."