The first Broadcast Tech Innovation Awards were held last night at a sold-out gala dinner at 8 Northumberland Avenue
The winners of the inaugural Broadcast Tech Innovation Awards were announced in front of a capacity crowd of 400 at 8 Northumberland Avenue, London last night.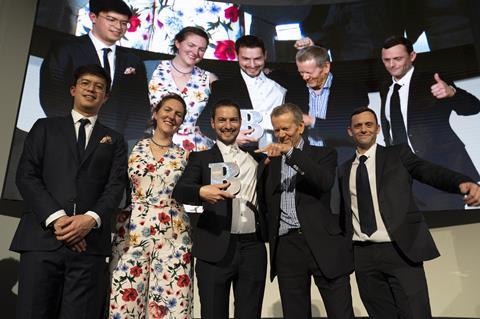 The Broadcast Tech Innovation Awards, which were hosted by comedian Phil Wang, honour technology-driven advancements across all areas of TV production and broadcast. Rather than award purely products, they shine the spotlight on the people, teamwork and projects that bring this tech to life.
All the award winners, including all the highly commended entries and all the shortlisted projects, are listed below.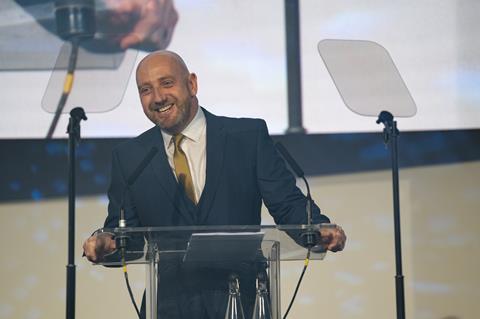 Broadcast Sport and Tech editor Jake Bickerton said: "We're truly grateful for how the industry has embraced these awards and really got involved in making them a huge success. The staggering array of talent that came together for the Broadcast Tech Innovation Awards is testament to the enviable levels of invention in the industry. Given the amazing response, we're going up in size for next year's awards - we'll be announcing the details soon, so watch this space. Huge congratulations to all those who came along last night, and to all the night's winners."
The event was sponsored by Jigsaw24, Iyuno, Gravity Media, ES Broadcast and Grass Valley.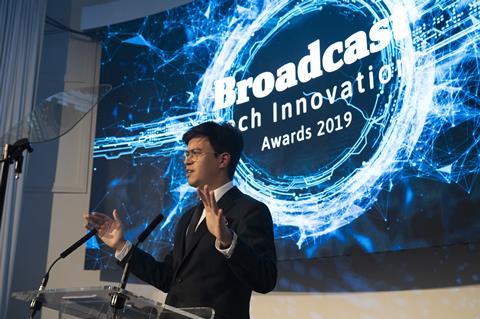 WINNER - Elevating the esports experience with cutting-edge broadcast technology, ESL, EVS
FINALISTS
Fortnite PRO-AM 2018, Epic Games, De Tune Company, Fanview - HIGHLY COMMENDED
Call of Duty World League, NEP UK, Gfinity
Best Use of Remote Production
WINNER - IAAF Productions, 2019 IAAF World Relays Yokohama, ITN, IAAF, NEP, Telstra
FINALISTS
Amazon Tennis for Amazon Prime Video, IMG Studios, Amazon Studios, Cingularity, Netinsight
BT Sport - remote production world first, BT Sport, Huawei, Mobile Viewpoint- HIGHLY COMMENDED
Formula 1, Channel 4, Whisper Films, Gearhouse Broadcasting, Timeline Television, Channel 4, TATA communications
Remote Production for Formula 1 Grand Prix, NEP
Sail GP, SailGP, Oracle, Whisper Films and Timeline TV
Women's World Cup, Fox Sports, IBM Aspera
Excellence in Virtual Studios & Real-Time VFX
WINNER - FOX Sports - NASCAR Virtual Studio, FOX Sports, Zero Density, Epic Games
FINALISTS
AR Studio ITV Sports 'Cathedral of Football', White Light, disguise, Deltatre, Vizrt, stYpe,
BBC Sport 2018 FIFA World Cup Studio, BBC Sport, AE Graphics, Stype, Vizrt, Scott Fleary, Jim Mann, Timeline
NFL Super Bowl 2019 - opening AR sequence, NFL, CBS, The Future Group,
Sky Sports Premier League AR studio, Sky Sports & Sky Creative
Wimbledon Player Interview Room, MOOV
Technical Innovation in a Sports Broadcast
WINNER - NBA G League Virtual Commentary Studio, Spalk, MLSE, NBA
FINALISTS
2018 London Landmarks Half Marathon, FilmNova & Timeline TV
Automated cloud-native live event orchestration, M2A Media / DAZN
BT Sport - Champions League Final in HDR, BT Sport
Next Gen ATP Finals 1080p50 HDR Production, Gearhouse Broadcast, ATP Media
WINNER - Tennis TV, ATP Media
FINALISTS
DAZN, DAZN Group
GOLFTV powered by PGA TOUR, Discovery
WINNER - A Moon for All Mankind, Iris, Framestore
FINALISTS
A Discovery of Witches, Sky VR, Dimension Studios, Hammerhead VR
Curfew: Join The Race, Sky VR, Endemol Shine UK, REWIND, Moonage Pictures
Eleven Eleven, NBC Universal
UEFA Champions League Final, Moov, BT Sport
WINNER - Madonna - Billboard Music Awards 2019, Dimension Studio, Reflector Entertainment
FINALISTS
Fact or Fantasy, Framestore,
Pakistan Super League – Opening Ceremony Pakistan Cricket Board, Bild Studios, Studio One, Musketeers, disguise 
SIC TV, Avid, SIC TV
WINNER - F1 360, F1
FINALIST
BT Sport - 8K VR FA Cup Final, BT Sport, Blackmagic
WINNER - Chernobyl, Sky Atlantic, DNEG TV
FINALISTS
Good Omens, Milk Visual Effects
Neanderthal: Meet Your Ancestors, Jellyfish Pictures
The Innocents, Jellyfish Pictures
The Planets, Lola Post Production
Excellence in Grading (Scripted)
WINNER - Chernobyl, Technicolor, Sky Atlantic, Jean-Clement Soret
FINALISTS
Don't Forget the Driver, Technicolor, Dan Coles
Flowers Series 2, Technicolor, Dan Coles HIGHLY COMMENDED
Patrick Melrose, Molinare, Andrew Daniel
Riviera Series 2, The Farm Group, Aidan Farrell
The ABC Murders, The Farm Group, Aidan Farrell
Excellence in Grading (Non-Scripted)
WINNER - The Mighty Redcar, The Farm Group, Dan Gill
FINALISTS
Gun No 6, The Farm Group, Nuala Sheridan
Murder Case, Blazing Griffin, Colin Brown
The Murder of Jill Dando, Splice, Adam Dolniak
Excellence in Restoration
WINNER - America in Color, Arrow Media, Composite Films
FINALISTS
Alice Sweet Alice, The Ark
Greatest Events of World War Two in Colour, WMR Productions
The Deer Hunter, Silver Salt Restoration
Innovative Use of Technology in Storytelling
WINNER - The Circle, Joi Polloi & Studio Lambert for Channel 4
FINALISTS
Deep Ocean Live, Sky News
National Museum of Qatar - Gallery 8, Nice Biscuits
Romesh's Look Back To The Future 2018, Sky, Hungry Bear Media
The Human Test, Channel 4
Your Home Made Perfect, Remarkable Television, BBC2
WINNER - Take Your Pills, Blue Spill
FINALISTS
Gfinity Elite Series, Liquid TV
Killing Eve, Sid Gentle Films
Best Audio Post Production – Scripted
WINNER - Les Misérables, The Farm Group
FINALISTS
Bandersnatch, Warner Bros. De Lane Lea
Killed By My Debt, Encore
Killing Eve, Hackenbacker
Patrick Melrose, Molinare
Best Audio Post Production – Non-Scripted
WINNER - Married to a Paedophile, Molinare
FINALISTS
Buried Secrets of the Bible with Albert Lin: Parting the Red Sea, Silverglade
Formula 1: Drive to Survive, The Farm Group
Jack Whitehall: Travels with My Father Season 2, Fifty Fifty
WINNER - FIFA World Cup Highlight Machine, Fox Sports, IBM, Thuuz
FINALISTS
F1, F1, AWS - HIGHLY COMMENDED
Made By Machine: When AI Met The Archive, BBC Four
Best Archive Transformation Project
WINNER - Bespoke Platform for Extensive Premier League, Archive, Imagen, Premier League, IMG
FINALISTS
BT Sport MAM, Timeline TV, BT Sport, Tedial
Carson Entertainment Group Innovative Approach to Archive and License Clips, Veritone, Inc.
Fox Sports Australia Archive, Ooyala, Fox Sports Australia
Little Dot Studios - Archive Transformation Project, Little Dot Studios, BASE Media Cloud, Cantemo
Wimbledon Film Restoration Project, All England Lawn Tennis Club (AELTC), R3:Store, IMG Media, IMG Replay
Excellence in Virtualisation
WINNER - Jellyfish Pictures Co-Location Project, Jellyfish Pictures, Pixit Media, ERA, Microsoft Azure, Teradici
FINALISTS
Delivering Broadcast Quality Video Over IP, Zixi, Bloomberg, NBC Universal, Warner Media
Green Rock Virtualisation Journey, BASE Media Cloud, Green Rock, IBM
Best Use of Cloud for Creative Innovation
WINNER - Esports, 'Battle Royale' fan experience, Make.TV, Mixer
FINALISTS
Coda Conversion, Coda Post Production
COPA90 - Cloud-Based MAM Infrastructure, Veritone, BASE Media Cloud, COPA90
ITN Productions -Transitioning Post to the Cloud, ITN, Sony, Temi, Trello
Excellence in Localisation for a Global TV Project
WINNER - The Bletchley Circle: San Francisco for Netflix, Zoo Digital
FINALISTS
MTV Video Music Awards, BTI Studios
Roland - Garros Tennis Production, Eurosport
Virtual Commentary Studio on World Rugby Sevens, Spalk, Engage Digital, World Rugby
Young Talent – Broadcasting
WINNER - David Harnett, Timeline
FINALISTS
Christopher Barr, Dock10
Ella Ozsanlav, Timeline Television
George de Long, IMG Studios
Young Talent – Production
WINNER Ross Stevenson, ITV News Central
FINALIST
Daniel Sloss
Young Talent - Post Production
WINNER - Josh Cordell, The Edit
FINALISTS
Ally Morgan, Farm Group
Jamie Allen, Hackenbacker
Lauren Andrew, The Farm Group
Lewis Todd, Molinare
Special recognition award
BT Sport chief operating officer Jamie Hindhaugh