Bloomberg has opened a state-of-the-art television studio and broadcasting facility at its new European headquarters on London's Queen Victoria Street
The central circular television studio taking centre stage in Bloomberg's new high-tech TV facilities is designed to grab your attention. It features programmable LED surfaces, including the floor, anchor desk and a series of large, hanging LED panels – which work as a digital canvas for graphics and moving-image content.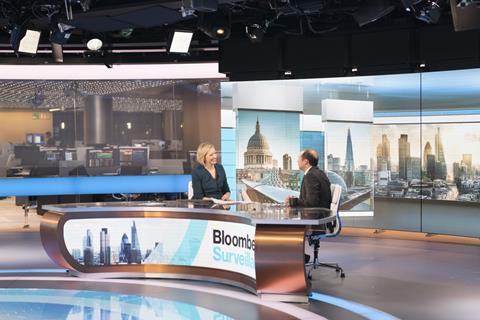 All these LED panels synchronise with video and can move independently or together to create flexible set elements that vary between segments and shows.
The studio space has been designed to enable content to be shot against multiple backdrops, including the movable LEDs displaying graphics and video, the live control rooms and a busy office floor housing more than 500 London-based reporters, editors, producers, analysts and economists.
The broadcast and office lighting on the newsroom floor is programmed to replicate studio conditions when the cameras are rolling.
Broadcast set design specialist Jack Morton Worldwide designed the space, which was delivered by systems integrator dB Broadcast and built by Scott Fleary. As well as the central studio, there are a further three studio spaces in the Bloomberg building, including one with a stunning backdrop of St Paul's Cathedral.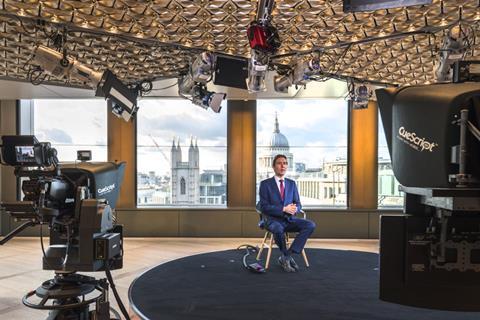 Elsewhere within the facility are two recording studios, a photography studio and three control rooms, from which 36 remote cameras are controlled in locations from Frankfurt to Kuala Lumpur.
"The new studio enhances our capability to showcase our interviews with global leaders in finance, investing, markets and economics, as well as Bloomberg's stable of experts," says Al Mayers, global head of broadcast for Bloomberg.
Andre Durette, senior design director at Jack Morton Worldwide, adds: "Working in partnership with Bloomberg gave us a unique opportunity to create one of the most advanced TV sets in the world. The design has a sophisticated simplicity that utilises many world 'firsts' in broadcast set technology, including the innovative curved LED panels."
David Bird, founder of dB Broadcast, says: "dB Broadcast has completed installations for all the major UK broadcasters and internationally, and this is by far the most technically advanced and agile studio facility we've seen."
Bloomberg Television is available in more than 437 million households worldwide. It streams live on Bloomberg's digital and mobile channels and is also available through Apple TV, Amazon Fire TV, Android TV, Samsung TV and Roku.
Eight hours of live television and four hours of live radio programming are broadcast from Bloomberg's new London facility every day.
Broadcast TECH - March 2018
1

2

3

Currently reading

Business news at the cutting edge

4