Substantial order of 4K system cameras announced on the eve of the Media Production Show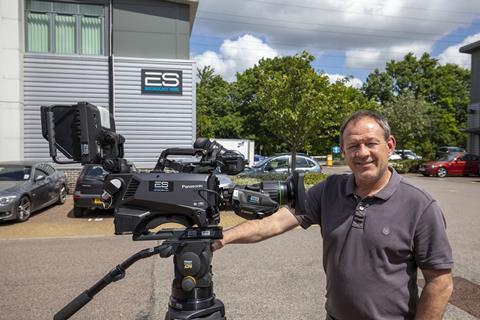 ES Broadcast Hire has invested in a "large quantity" of Panasonic AK-UC4000 4K system cameras.
The cameras are widely used for capturing 4K images in live sports production and high-end event broadcasting, especially for HDR productions, as they simultaneously output HDR and SDR.
Other features of the AK-UC4000 include a high speed 2x, 3x or 4x output at 1080p for high-quality slow motion capture.
Warren Taggart, managing director of ES Broadcast Hire (pictured above), said: "With the acquisition of these Panasonic channels, we are now even better equipped to meet the full range of budgetary and technological requirements. We expect high demand not only from the continent, where Panasonic already has large market share, but also in the UK, where we are seeing customers in live events and other fields opt for Panasonic solutions."
Nigel Wilkes, group manager at Panasonic, added: "Panasonic's studio camera technology has helped increase its position in the European market for live production, obtaining a market share of 16% in the last two years alone. We look forward to supporting ES Broadcast Hire in facilitating our technology to support existing markets and new uses."
Panasonic are exhibiting its range of cameras at the Media Production Show 2019 at Olympia London, on Tuesday 11 and Wednesday 12 June