Industry primed for explosive growth, but TV expected to lose out in fight to attract fans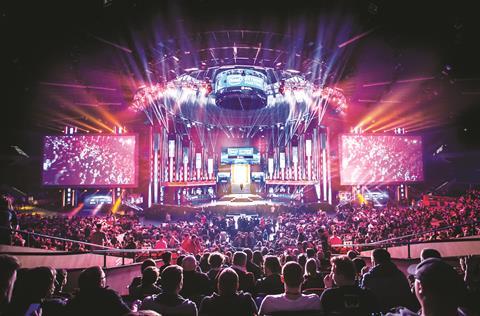 The global eSports market is set to explode over the coming years, but conventional TV could already be too late to entice fans away from the likes of Twitch and YouTube.
Market intelligence company Newzoo predicts the eSports industry will be worth around $1.6bn (£1.1bn) by 2021, while a more modest assessment of its potential, by PwC, puts its value at $874m (£626m).
The Prize money for competitive gaming is expected to rise to $112.2m (£80m) this year, and top players, mostly in their early 20s, have already amassed multi- million-pound fortunes from eSports competitions.
The number of people watching eSports now surpasses that of many conventional sports – last year's final of the Intel Extreme Masters series was watched by an online audience of 46 million. And while conventional sports are being overtaken by eSports, conventional TV is also being outdone.
YouTube and Amazon-owned livestreaming platform Twitch – which it acquired for $970m (£695m) in 2014 – are the main destinations for eSports fans. There are also popular online eSports channels such as Ginx, which broadcasts eSports 24 hours a day.
BBC3, BT Sport and ESPN, plus TBS in the US, are among the TV broadcasters that have experimented with showing eSports tournaments, while Ginx is also available through Sky and Virgin Media.
But they are all playing catch-up, and eSports fans don't consider TV one of the main platforms for viewing the content.
"ESports has seen huge growth over the past couple of years among millennial and Generation Z audiences."

Curt Marvis, QYou Media
A report last year from eSports consultancy firm Strive said: "The eSports audience has grown to a scale that broadcasters and advertisers cannot afford to ignore. Conventional TV wants to get involved in eSports." It identified several challenges: "Being authentic, a lack of interactivity and different production conventions. They are struggling to get to grips with its global scale and lack of structure. Unlike conventional sport, eSports grew online and without geographic boundaries."
This is an opinion shared by many in the gaming industry. Alec Meer of games website Rock, Paper, Shotgun told the BBC after it began broadcasting eSports tournaments: "It's difficult to imagine what [the BBC] could do to entice people away from watch-anywhere eSports, with favoured commentators and streams on YouTube and Twitch, back to broadcast TV."
Curt Marvis, chief executive and co-founder of QYou Media, which specialises in curating and distributing made-for-web video content, told Broadcast: "ESports has seen huge growth over the past couple of years among millennial and Generation Z audiences. These digital natives have grown up on a diet of short-form online video through platforms such as YouTube, Daily Motion and Vimeo. They are also the largest demo- graphic for video gaming."
However, it's not yet game over for eSports on TV, says Marc Genin, vice-president of Gearhouse Broadcast USA, which supplies high-end equipment to broadcasters and studios: "I can see wars hotting up between broadcasters and net- works eager to chase a fan base. A tussle for fans is already under way in the UK, where both BBC3 and BT Sport have signed up to broad- cast coverage of the GFinity Elite Series eSports tournament."
But whatever tournaments are picked up by broadcasters, it's clear they have some way to go to convince eSports fans they will find something of value on TV that can compete with the immediacy and credibility of their favoured online platforms.