4K and IP capable cameras will be used across live productions
European broadcast facilities and services provider Euro Media Group has acquired 42 Sony HDC-3500 system cameras with 4K and IP capability.
The cameras will be used across a variety of live production environments, from studios to sports and entertainment.
They add to Euro Media Group's existing fleet of 4K and IP capable Sony solutions, including the HDC-4800, HDC-4300 and HDC-2500 system cameras as well as XVS series switcher systems.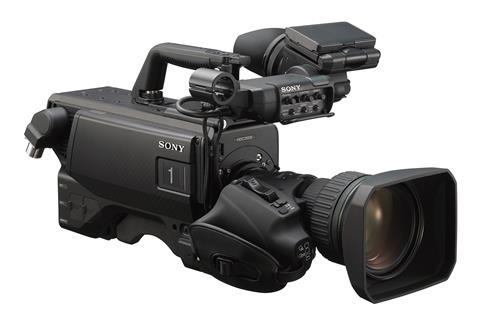 The HDC-3500 has a 2/3-inch 4K CMOS sensor with global shutter technology, meaning it can deliver image quality in 4K at low noise (-62dB), high sensitivity (F11 at 1080/50p) and High Dynamic Range.
Recently announced at NAB, the HDC-3500 will also support 4K wireless operations by the addition of the HKC-WL50 exchangeable side panel.
Ronald Meyvisch, chief technology officer at Euro Media Group, said: "Investing in the HDC-3500, complementing our existing fleet of Sony solutions, will accelerate our ability to deliver any type and size of event in precise colour, contrast and detail. It will also enable us to take full advantage of IP for remote production, dynamic allocation of resources, and more."
Norbert Paquet, head of product management for Sony Professional Solutions, added: "Sony and Euro Media Group have a long-standing partnership formed on the principles of technological innovation, reliability and long-term value."
*Pictured above, from right to left: Emilie Deshors – purchasing director, Euro Media Group; Ronald Meyvisch – chief technical officer, Euro Media Group; Koichi Yamanaka – senior general manager, Media Solution Business Division, Sony Professional Products & Solution Group