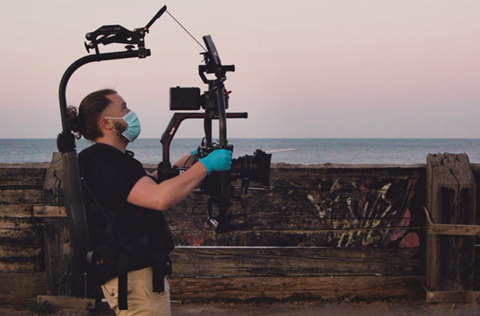 Brighton-based creative agency Tilt has created a short film to demonstrate how productions can follow Covid-19 shooting guidelines, following the relaxation of the lockdown.
The six-minute film went behind-the-scenes during the company's first post-lockdown shoot - a brand film for artist Lois O'Hara.
It shows everything from what Tilt did to hire production kit to how to handle the shoot itself - getting to and from location, using PPE, enforcing social distancing, checking temperatures, assigning kit to individuals, and so on – and how to post-produce safely.
In a blog on the company's website, Tilt head of film and motion, Dan Evans explained: "Our first real shoot since the lockdown was the prefect opportunity to practice and gain proficiency in our new safety procedures. We followed the APA Covid-19 Shooting Guidelines which were the most comprehensive at the time.
Rather than simply telling people, we thought we'd show people how we did it. So we made a film to document the process. I hope it's useful to filmmakers and their clients alike as the film world emerges in slow motion."