Jellyfish handled the visual effects and animation work on the second series on this kids' hit.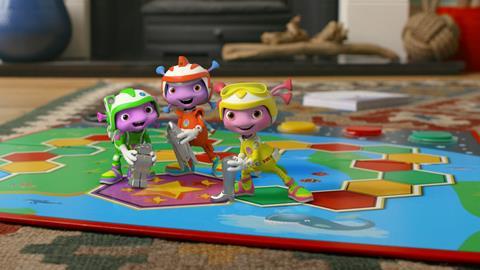 VFX Jellyfish
Jellyfish again looked after the complex visual effects on the second outing of this 52 x 11-minute pre-school series, which mixes animation with live-action back plates.
The series follows three four-inch 'alien space explorers' – the Floogals. Due to their size, most of the action takes place on a macro scale. The world they inhabit was shot as live-action, with the characters lit and rendered photo-realistically before being meticulously comped into each back plate.
Jellyfish supervised the live-action shoot, which took place in a London townhouse and various other locations.
Accurate scene data, including HDRI information, was captured along with scale references, using tiny 3D-printed models of the alien explorers.
The scenes were then laid out to scale in Autodesk Maya, and the Floogals animated into each scene.
Many of the objects the animated characters interact with were also created in CG and rendered with the Floogals. Modelling, layout, animation and lighting were all carried out in Maya, while rendering was done in V-Ray, compositing in Nuke and editing in Adobe Premiere.
Much of the "drudge work" involved in creating the series was automated by a VFX pipeline created "over the years" by Jellyfish, freeing up artists to focus on the creative work, the company says.