New site, The Lily Campus, will add an extra 95,000 sq ft to the facility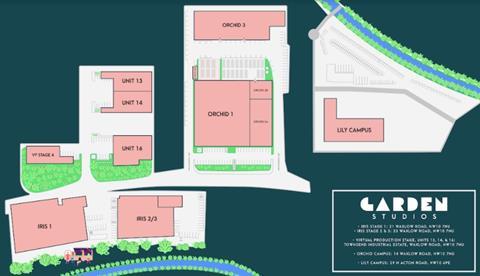 Garden Studios has revealed that it has expanded to a total of 146,100 sq ft at its Park Royal, London location.
New space has been added in The Lily Campus, which comprises of 95,000 sq ft of serviced production offices on 1.3 acres of land, including 180 new parking spaces. In addition, The Townsend Campus, which currently consists of the virtual production studio and unit 16 shooting space, will be expanded to include a dedicated costume and hair and makeup unit.
This adds to the eleven serviced offices, two shooting spaces (totaling 40,000 sq.ft) and a 16,000 sq.ft workshop at the The Orchid Campus, and The Iris Campus, situated beside the Grand Union Canal. It is home to three soundstages and four large fully equipped production offices with green rooms, hair & makeup rooms, workshop units and parking, as well as a canal-side green space with private meeting pods and garden.
Garden Studios is open to feature film, television production, short-form promo, video game, commercial or music video productions, and has collaborated with technology companies such as Brompton Technology, MoSys, ProCam Take 2, Quite Brilliant, and ROE Visual Europe on its facilities.