George Foulgham Soundscapes will provide support for film & tv productions from concept to the final mix.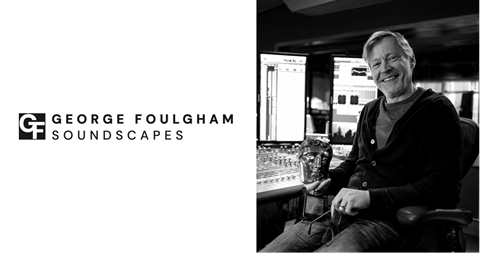 BAFTA-winning re-recording artist George Foulgham has launched a boutique venture, George Foulgham Soundscapes.
An audio post-production company, GF Soundscapes aims to provide support for film & tv productions - both documentary and drama - from concept to the final mix.
It wants to deliver a holistic approach, joining projects as early as the treatment stage, through to filming rough cuts, and the final mix, with the desire to streamline the service and avoid common problems found in post-production.
During 15 years as head of Molinare's factual audiosound department, Foulgham has worked on Oscar-winning Man On Wire, Alex Gibney's Citizen K, Orlando von Einsiedel's and Joanna Natasegara's Oscar-winning The White Helmets and Oscar- nominated Virunga, Ed Perkins' Oscar-nominated Black Sheep, Lucy Cohen's Kingdom of Us, Kevin Macdonald's Sky Ladder: the Art of Cai Guo-Qiang, Alfred George Bailey's Grierson-winning Show Me The Picture: The Story of Jim Marshall and Daniel Gordon's BBC four-parter The Life and Trials of Oscar Pistorius.
Foulgham himself has won a BAFTA for 'Best Sound' for his work on Trawlermen, an RTS Craft & Design award for Fighting the War, six further BAFTA nominations and most recently a nomination for a Broadcast Tech Innovation Award.
Foulgham said: "This is an exciting new chapter in my career. I'm really looking forward to getting involved with projects at the pre-production stage, where a lot of audio decisions are made without a voice from the 'post' world. Overseeing a project's audio requirements from start to finish will make the whole process a lot more streamlined for our clients. Too often it's clear from the final piece when the soundscape has been treated as an afterthought."