Facility builds high-end audio and edit suites to create dedicated area for external clients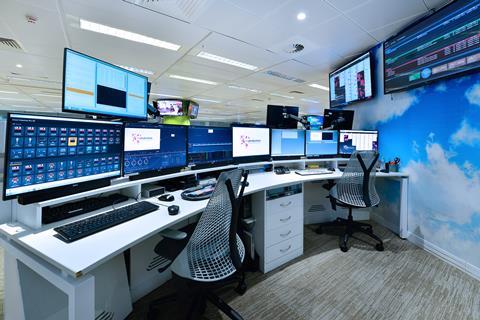 ITN Productions (ITNP) is investing £1m to expand its post-production services and create a dedicated area for external clients, with editing and finishing rooms and high-end immersive audio mixing.
The expansion is the latest move by ITNP to create an attractive, high-end facility that can compete on an equal footing with an independent post house. It comes only two years after the production house's existing post facilities underwent extensive expansion, refreshment and refurbishment.
ITNP is based in an imposing modern office building on Gray's Inn Road, Holborn. A huge reception area incorporates an in-house café that delivers orders directly to the edit suites, and provides quite a different environment to that of a typical post house.
The post facilities are in the basement of the building, and the centrepiece of the expansion is a spacious new Dolby Atmos Home Entertainment room.
It's ITNP's fourth audio suite and enables the firm to work on immersive audio mixes for high-end TV clients. The room is Dolby certified for TV rather than theatrical Atmos mixes, with the aim firmly on servicing the audio requirements of SVoD productions.
IN NUMBERS: ITNP'S POST FACILITIES
34 - Offline/online/grading suites
4 - Audio suites (one of which will be Dolby Atmos HE)
1 - Viewing suite
2 - QC booths
34 - Desktop edit workstations
The room puts ITNP in a small but growing list of UK post houses with top-end Dolby-certified Atmos audio mixing rooms.
Much of the rest of the expansion is focused on bolstering ITNP's editing services. The new area adds five UHD-capable multi-purpose (offline/online) suites to the existing 28 offline/online rooms. All of these can also be used for grading, via Tangent Elements panels.
The development also adds two new dedicated QC rooms, which can also function as edit assist rooms or be used for reviews and approvals. Furthermore, one of its existing QC rooms will become another editing suite, bringing
ITNP's total number of dedicated offline/online rooms to 34.
As part of the expansion, ITVP has standardised on Sony PVM-A250 monitors across the facility. It also has two Sony BVM X300 reference monitors for mastering HDR work. The consistency of displays means clients can move from one room to another and the images will look identical wherever they are working.
External focus
ITNP director of post-production Olly Strous told Broadcast: "With this expansion, we're properly announcing to the wider market that we're open for business. The new facilities are solely focused on the external market – we already do a fair amount of external work, but up until now it's been about having to slot it in among our internal work.
"As well as the new rooms, one of the things external clients can benefit from is our playout services. This means you can continue working on a production until very close to air. Any of our galleries can play out live to air, which is useful for quick-turnaround shows."
Work begins on the new rooms this week, and ITNP will have the new post facilities up and running by the beginning of December as it already has clients allocated to all the rooms from 2 December.
The substantial expansion of ITNP's post services is the first stage in a planned series of changes the company aims to make over the coming year. Next up is the relocation of ITNP's Media Hub (pictured above), which is currently housed in the middle of office space on a separate floor. ITNP wants to put this into its basement alongside the post-production facilities, so that clients can self-ingest their rushes.
Strous said the plan is to use an area currently serving as a staff gym, which will house both the Media Hub and client welcome area. He added: "We've introduced an 'all-you-can-eat' offline price for users of Media Hub's self-service tools. This includes unlimited card-based ingest and unlimited hosted review and approval exports from the suites."
ITNP has recently post-produced ITV drama Sticks And Stones, BBC drama Barking Murders, Dancing On Ice 2019 for ITV and Sink Or Swim – Stand Up To Cancer for Channel 4.