Tinopolis Cymru replaces SD truck with three-camera HD vehicle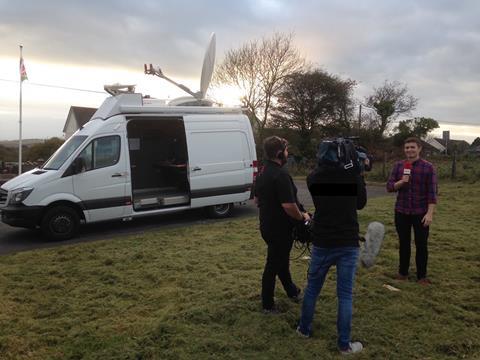 Systems integrator Megahertz has delivered a new HD satellite/production OB van to Tinopolis Cymru. The vehicle is being used to capture two hours of live local interest and welsh-focused content per day for S4C's primetime Prynhawn Da magazine show.
The HD OB van replaces a 10-year-old one camera SD van, and is based on a Mercedes Sprinter Chassis.
The set up includes three Panasonic HD cameras that can be converted to studio/live cameras using three Ereca fibre systems and a Cobham radio camera system, enabling live vision control of cameras and tallies.
A Blackmagic Atem vision mixer and two Blackmagic HyperDecks enable the van to "operate in a production capacity with the ability to cut live footage and pre-recorded rushes live to air as well as preparing content for social media," says Megahertz.
A Ku-band Advent NewSwift 1.5m dish enables SD/HD transmission, while a second Ka-band antenna accesses IP networks to enable transmission to social media channels, downloading of scripts, programme running orders, emails and voice communications.
John Griffiths, Chief Engineer, Tinopolis, said: "From the off, Megahertz's ability to grasp our vision for the truck and then interpret our needs from a technical and production point of view, have been spot on."
"We're building more and more outside broadcast vehicles that take advantage of IP networks to carry data to and from a remote location," adds Jon Flay, managing director, Megahertz. "This HD satellite truck helps bring more live on-location and HD content to Tinopolis Cymru's primetime viewers."