New hires include VFX producers Noga Allon-Stein and Giacomo Sotgiu and chief business development officer Michelle Martin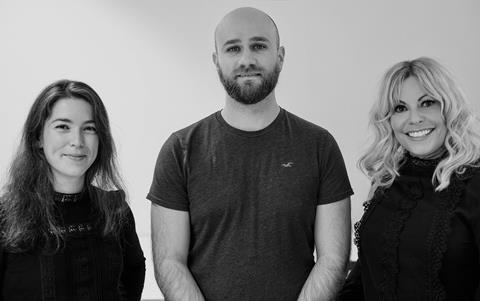 VFX studio Milk has taken on former Framestore head of business development, Episodic, Michelle Martin (pictured, above right), to the newly-created role as its chief business development officer.
She has more than 20 years of global VFX production and development expertise, including at Framestore, where she was instrumental in growing the TV/Episodic slate to an award winning level across London, New York and Montreal.
While at Framestore, Martin oversaw projects including The Crown, Watchmen, His House, Lovecraft Country, The Boys and Black Mirror, as well as the global event series MARS.
Martin will develop Milk's episodic and film production slate and oversee marketing. She will work closely with CEO Will Cohen, alongside the board and senior management and creative teams to deliver Milk's growth plans.
Martin's appointment comes as Milk hires new talent for its creative and production teams. It has taken on veteran VFX supervisor Andy Morley (Avengers: Infinity War; Fantastic Beasts And Where To Find Them; Batman Begins); VFX supervisor Oliver Cubbage (George Clooney's The Midnight Sky; Netflix' The Witcher); experienced VFX producers Noga Allon-Stein (pictured, above left) (Amazon's The Power; Guy Ritchie's The Gentlemen andWes Anderson's The French Dispatch) and Giacomo Sotgiu ((pictured, above middle).
Milk is currently in production on a range of episodic and film projects, including Working Title's films The Swimmers and What's Love Got To Do With It; and Amazon Studios/ Left Bank Picture's episodic series Three Pines.
Cohen said: "There's now more demand for VFX than I've ever seen, in turn creating incredible opportunities for VFX studios to evolve. It's time for Milk to expand the senior team and mentor the next generation of creative talent. We're thrilled to welcome Michelle as well as Andy, Oliver, Noga and Giacomo to our team to help drive the next stage of our growth."
Martin added: "I have long admired the quality of the work at Milk and the culture they have created, there's a great vibe amongst the staff and a real sense of team spirit. When the opportunity came to join the senior team and help develop the business to the next level, it felt like a fantastic match based on my experience, drive and ambition."
PICTURED (from left): VFX producers Noga Allon-Stein and Giacomo Sotgiu; chief business development officer Michelle Martin