It is the latest in a number of projects the pair have worked on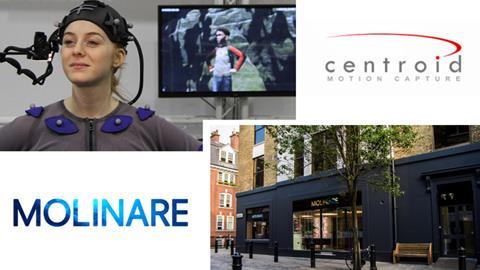 Molinare and Centroid have announced a new joint venture, Centroid @ Molinare.
The first step in the partnership is the unveiling of a bespoke full performance capture studio in central London.
Centroid specialises in performance capture, character animation and VFX services for Game Development, Film and Television production, and now these services will be available alongside the post-production capabilities of Molinare at their shared studio.
Centroid offers offer optical motion capture, head mounted camera and virtual camera solutions and has worked on the likes of Wonder Woman 1984, Game Of Thrones, The Dark Anthology series, and Dunkirk.
Molinare managing director Nigel Bennett and Centroid's CEO Phil Stilgoe have worked together on productions at Pinewood Studios in the past, and are happy to be collaborating again.
"I am very happy to reignite a working relationship with Phil and his brilliant team at Centroid," Bennett said. "Combining their expertise and our own in-house capabilities, led by our Creative Director, Glen Gathard, will be a potent blend and add creative depth to Molinare's media services offer."
Stilgoe added: "I'm personally and professionally overjoyed to once again have Centroid working alongside Nigel, Glen and Sarah. Over the last decade we have partnered on many great projects which have laid the foundations on which we will continue to build."