15 participants have been matched with industry mentors in UK film and high-end TV production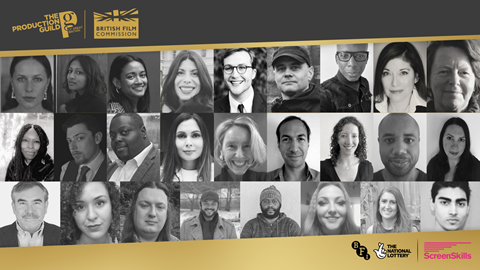 The Production Guild of Great Britain (PGGB) has revealed the first 15 entrants to its Diversity and Inclusion Mentor Scheme.
Run in partnership with the British Film Commission, the programme has matched 15 mentees with experienced industry mentors working in UK film and high-end TV production.
Aimed at workers in all grades and departments represented by PGGB's membership, including production, accounts, ADs, locations, post-production and VFX supervisors and co-ordinators, the scheme wants to help underrepresented talent at entry, early and experienced levels reach the next level of their careers.
Mentees - Mentors
Anthony C. Green, camera operator moving into producing - Christopher Granier-Deferre, producer (Gone Too Far, Scarborough) and executive producer (County Lines, Lady Macbeth, Apostasy, The Levelling)
Anand Tiwari, recent graduate moving into production - Valeria Bullo, currently project lead for the film and TV charity's Whole Picture Programme, previously production consultant, Protagonist Pictures and production executive, Pathe (Judy, Selma, Pride, Suffragette)
Bernadette D'Mello, executive assistant and production coordinator - Jane Soans, location manager (Brave New World, Closer, Zero Dark Thirty, Me and Orson Welles)
Cheyenne Conway, experienced unit production manager - Alex Boden, PGGB chairman and producer (Cursed, Sense8, Cloud Atlas, Salmon Fishing in the Yemen)
Darius Midcalf, entry level post-production & VFX - Dee Allen, vice president for artists & client relations (Company 3/Method Studios) and managing partner (No Chiefs)
Dawn Furness - Victoria Dabbs, line producer (Elizabeth is Missing, Our Ladies, Malevolent, Tommy's Honour)
Fi Lewis, emerging scripted and unscripted producer - Andy Noble, producer (Killing Eve, Film Stars Don't Die in Liverpool, Extraordinary Rendition)
Jay Ruthnam, legal and business affairs professional moving into scripted production - Bianca Gavin, head of production (Scripted Division), Pulse Films (Gangs of London 2)
Katrina Grey, actor/writer/director moving into production - Samantha Brayson, production accountant (The Bubble, The Little Mermaid, Pennyworth, Maleficent: Mistress of Evil)
Michael John Kilpatrick, emerging production accountant (Game of Thrones, Dungeons & Dragons, The Son) - Ruby Avards, financial controller (Untitled Wes Anderson project, Catherine Called Birdy, Mothering Sunday)
Paul Reilly, production assistant moving into production coordinating - Jacquie Glanville, head of production, Dancing Ledge Productions (for BBC Studios - Time, Luther, Three Girls, Dr Who)
Reshma Madhi, production assistant - Alice Dawson, line producer (Yardie, The North Water, The Father, Blinded by the Light)
Joshua Fakunmoju, gaffer moving into cinematography or directing - Mia Martell, producer (Slate and Diamonds, Take Away, Ben Hur, Dunkirk)
K.C. Hughes, early-stage producer - Christopher Granier-Deferre, executive producer (see credits above)
Surani Himasha Weerappulige, acquisitions, licensing and research professional from a film festival background, moving into producing - Victoria Dabbs, line producer (see credits above)
Jivan Mann, PGGB's Diversity and Inclusion Action Group producer, says: "This is a fantastic opportunity for both mentors and mentees to really help the future leaders of today change the landscape of production for tomorrow. We kicked off at the end of July with a sound discussion around the benefits of mentoring, experiences of privilege and career progression, followed by training on how to get the best out of mentoring in conjunction with ScreenSkills. We can't wait to check in with our mentees soon to see how they are developing as the scheme progresses."
The scheme is supported by ScreenSkills Mentoring Network, which is supported by the BFI, awarding National Lottery funds as part of its Future Film Skills strategy - and you can find out more here.