BBC1 drama Taboo was the big winner at the 2017 RTS Craft and Design Awards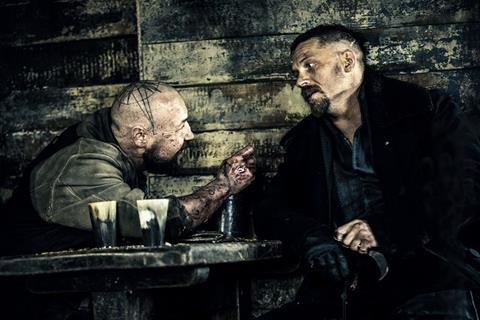 The Scott Free London and Hardy, Son and Baker-produced series won for Costume Design in a Drama (Joanna Eatwell), Make Up Design in a Drama (Erika Okvist, Jan Archibald and Audrey Doyle) and Sound in a Drama.
Taboo, starring Tom Hardy and created by Steven Knight, was nominated in six categories in total.
BBC Studios' World War One Remembered: Passchendaele also picked up three awards, winning two in the individual categories (Sound in Entertainment and Non-Drama and Lighting for Multicamera) and a judges award.
It was also a good night for BBC Studios and Studio Lambert's Three Girls, the drama based on the true stories of victims of grooming and sexual abuse in Rochdale.
Three Girls was victorious in two categories, Photography in a Drama & Comedy (Matt Gray) and Editing in a Drama (Úna Ní Dhonghaíle). It was nominated in four categories.
The sitcom White Gold, produced by Fudge Park Productions, also won two awards picking up Director in a Comedy Drama / Situation Comedy (Damon Beesley) and Costume Design in Entertainment and Non Drama (Caroline Pitcher).
BBC Studios and the BBC Natural History Unit were rewarded for the wildlife epic Planet Earth II with the Craft and Innovation Award for 2017 and the gong for Photography in a Documentary / Factual and Non Drama.
Several Soho post-production companies were recognised too.
One of Us won the Digital Effects award for Netflix's The Crown, The Farm colourist Dan Gill was recognised for Picture Enhancement for his work on Hospital (Series 2) while Platform Post, working with 4Creative, was handed the Design Trails & Packaging award for Film Fear.
Sound supervisor Tony Revell, whose credits include Top of the Pops, Only Fools and Horses, The Eurovision Song Contest and Strictly Come Dancing, was honoured with the Lifetime Achievement Award.
The 2017 RTS Craft and Design Awards were presented on Monday 27 November 2017 at the London Hilton on Park Lane.
Winners in full
Costume Design - Drama: Joanna Eatwell
Title: Taboo
Production Company: Scott Free London and Hardy, Son and Baker
Broadcaster: BBC1 and FX
Costume Design - Entertainment and Non Drama: Caroline Pitcher
Title: White Gold
Production Company: Fudge Park Productions
Broadcaster: BBC2
Design - Programme Content Sequences: Made in Colour
Title: Finding My Family - Partition
Production Company: Made in Colour
Broadcaster: CBBC
Design - Titles: Huge Designs - Hugo Moss, Paul McDonnell and Ben Hanbury
Title: Fearless
Production Company: Mammoth Screen
Broadcaster: ITV
Design - Trails and Packaging: Rob Heath, John Cryer, Shizuka Hata and Rachel Warr
Title: Film Fear
Production Company: Platform Post and 4Creative
Broadcaster: Film4
Director - Comedy Drama / Situation Comedy: Damon Beesley
Title: White Gold
Production Company: Fudge Park Productions
Broadcaster: BBC2
Director - Documentary/Factual and Non Drama: Dan Edge and Lauren Mucciolo
Title: Last Days of Solitary
Production Company: Mongoose Pictures and Frontline PBS
Broadcaster: BBC4
Director - Drama: Julian Jarrold
Title: The Witness for the Prosecution
Production Company: Mammoth Screen and Agatha Christie Productions
Broadcaster: BBC1
Editing - Documentary / Factual: Sam Santana
Title: Bring Me Back to Life
Production Company: The Garden Productions
Broadcaster: Channel 4
Editing - Drama: Úna Ní Dhonghaíle
Title: Three Girls
Production Company: BBC Studios in association with Studio Lambert
Broadcaster: BBC1
Editing - Entertainment and Comedy: Editing Team
Title: Love Island - Series 3
Production Company: ITV Studios / Motion Content Group
Broadcaster: ITV2
Editing - Sport: Matt Roberts, Kevin Evans, Jordan Buckingham and Scott Deaming
Title: UEFA Champions League final 2017 - Real Madrid v Juventus
Broadcaster: BT Sport
Effects - Digital: The Digital Effects Team, One of Us
Title: The Crown
Production Company: Left Bank Pictures
Broadcaster: Netflix
Effects - Special: Real SFX
Title: Sherlock
Production Company: Hartswood Films / Masterpiece
Broadcaster: BBC1
Lighting for Multicamera: Nigel Catmur
Title: World War One Remembered: Passchendaele - For The Fallen
Production Company: BBC Studios
Broadcaster: BBC1 and BBC2
Make Up Design - Drama: Erika Okvist, Jan Archibald and Audrey Doyle
Title: Taboo
Production Company: Scott Free London and Hardy, Son and Baker
Broadcaster: BBC1 and FX
Make Up Design - Entertainment and Non Drama: Siobhán Harper-Ryan
Title: The Drug Trial: Emergency at the Hospital
Production Company: Raw TV
Broadcaster: BBC2
Multicamera Work: Richard Valentine and Matt Ingham
Title: One Love Manchester
Production Company: BBC Studios
Broadcaster: BBC1
Multicamera Work - Sport: Helen Kuttner, Tim Moses, Mark Dennis and Camera Team
Title: 2017 IAAF World Athletics Championship
Production Company: Sunset+Vine (Host Broadcaster)
Music - Original Score: Dru Masters
Title: Damilola, Our Loved Boy
Production Company: Minnow Films
Broadcaster: BBC1
Music - Original Title: Martin Phipps
Title: Victoria - Series 1
Production Company: Mammoth Screen
Broadcaster: ITV
Photography - Documentary / Factual and Non Drama: Production Team
Title: Planet Earth II
Production Company: BBC Studios, Natural History Unit
Photography - Drama and Comedy: Matt Gray BSC
Title: Three Girls
Production Company: BBC Studios in association with Studio Lambert
Broadcaster: BBC1
Picture Enhancement: Dan Gill
Title: Hospital - Series 2
Production Company: Label 1
Broadcaster: BBC2
Production Design - Drama: Joel Collins and James Foster
Title: Black Mirror: Nosedive
Production Company: House of Tomorrow
Broadcaster: Netflix
Production Design - Entertainment and Non Drama: Florian Wieder
Title: Britain's Got Talent
Production Company: Thames SYCO
Broadcaster: ITV
Sound - Drama: Sound Team
Title: Taboo
Production Company: Scott Free London and Hardy, Son and Baker
Broadcaster: BBC1 and FX
Sound - Entertainment and Non-Drama: Sound Team
Title: World War One Remembered: Passchendaele
Production Company: BBC Studios
Broadcaster: BBC1 and BBC2
Craft and Innovation Award 2017: Planet Earth II
Production Company: BBC Studios, The Natural History Unit
Broadcaster: BBC1
Judges Award 2017: World War One Remembered: Passchendaele
Production Company: BBC Studios
Broadcaster: BBC1 and BBC2
Lifetime Achievement Award 2017
Tony Revell