Show lines up some of the industry's biggest names to share insight and knowledge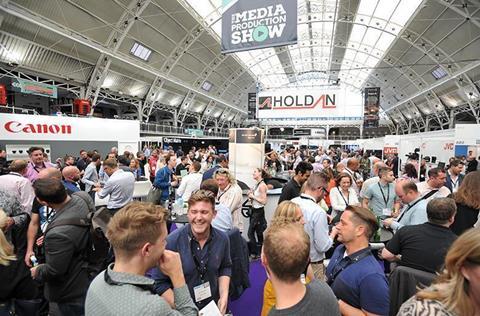 A raft of broadcast technology and post production leaders are set to speak at next month's Media Production Show (11 and 12 June).
The Show has an extensive programme of high calibre free seminars with some of the industry's biggest names sharing their insight and knowledge.
Two of the Show's theatres are focused specifically on post and tech: the Broadcast TECH theatre and the Technology & Post Creative Hub theatre.
The Technology & Post Creative Hub theatre opens on Tuesday 11th June with a keynote debate titled State of the Nation: Post Production with speakers Ian Dodd, head of post at Dock10; Cara Kotschy, managing director at Fifty Fifty Post Production; and Rowan Bray, managing director of Clear Cut Pictures
Later in the day, there's also a State of the Nation: UK VFX session with speakers including David Fowler, head of visual effects at LipSync Post, and Rachel Matchett, global head of VFX at Technicolor.
Elsewhere, there's a session on future media – looking at tech such as AI, AR to 5G – with speakers including Andy Beale, chief engineer of BT Sport; Sinead Greenaway, chief technology & operations officer at UKTV; Steve Sharman, director of Hackthorn Innovation; and Ben Foakes, managing director of BASE Media Cloud.
There's also a dedicated session on artificial intelligence and machine learning, with the following speakers lined up: Alex Zhukov, CTO & founder of VideoGorillas; Sebastian Jaeger, founder & CEO of Filmstro; David Jorba, EVP managing director of TVU Networks; Marta Mrak, video coding project leader of BBC R&D; and Katie Nykanen, chief technology officer of Adstream.
On the Wednesday, there is a colourists masterclass Jateen Patel, senior colourist at Molinare, and Enge Gray, senior colourist at Platform Post.
There are also several sessions on the Wednesday devoted to cloud technologies, looking at the subject across issues such as adoption, migration, storage, sharing and delivery. Speakers include Olly Strous, head of post production at ITN; Lee Atkinson, principal solutions architect at Amazon Web Services; Barbara Rosseel, srategic market lead at Sony; Kevin Gibbons, CFO of Little Dot Studios; Laura Cotterill, founder & MD of LCTV; Barry Flanigan, chief product officer of COPA90; Jeremy Smith, CTO of Jellyfish Pictures; Simon Robinson, the founder & chief scientist of Foundry; Dennis Rose, the chief revenue officer of Sohonet; and Michael Wrightson, the COO of Virtual Post Production.
The Broadcast TECH theatre, meanwhile, offers more sessions. On the Tuesday a session about improving workflows from post to distribution based on Interoperable Master Format (IMF) has Cara Sheppard, director of Warner Bros. De Lane Lea; Andrew Dunne, technology manager at BBC Studios; Jack Watts, owner at Trench Digital; and Peter Collins, head of scripted pipeline at The Farm Group.
There are also sessions on livestreaming, the power of mentoring, adventure filmmaking through to content storage.