The shift to IP took a big step forward this year, while broadcasters found a use for AI in everything from subtitling to assembling highlights packages
The majority of artificial intelligence (AI)/machine learning (ML) applications to date have been proof-of-concept, but there is little doubt that the technology will ultimately have an impact on virtually all parts of the content creation and broadcast chain.
"Almost every media business is focused on speed, agility and intelligence," says Digital Production Partner ship (DPP) managing director Mark Harrison.
"AI – or whatever term people use for process automation that exploits complex data faster and better than humans – will start to become a commodity business tool. It will be interesting to see what new partnerships and relationships form around this, and what the unforeseen consequences might be – there are always some."
It's clear that AI/ML is not an off-the-shelf solution from Microsoft or IBM but one that needs to be tailored to specific broadcaster databases and workflows. That requires expertise, time and expense – something the European Broadcasting Union (EBU) aims to tackle in 2019.
"You need a critical mass if you want to deploy AI/ML," says EBU director of technology and innovation Antonio Arcidiacono. "We want to unite the resources of our members to develop applications together."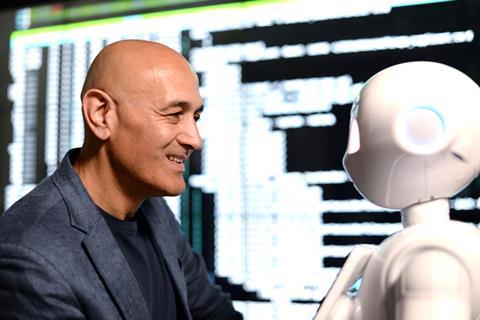 One example is speech-to-text. "Very often, you find the best AI solutions for this are in American English, but they won't necessarily be the best for Dutch or German," says Arcidiacono.
"Since broadcasters' resources are often limited, we can cross-fertilise their teams' efforts to solve AI applications – dealing, for instance, with archive or the newsroom."
According to international media and tech trade body IABM's Buying Trends survey, AI/ML adoption in the broadcast and media industry leaped from 2% to 13% in the six months to 30 September, with another 68% of those surveyed vowing to deploy it over the next two to three years.
"Imagine a scenario where you drop in a piece of content and specify whether and how you want it dubbed or subtitled in any language you choose," says Rian Bester, chief executive of online broadcaster Insight TV.
"There's no need for scripts since the machine will recognise metadata on the fly. Finer aspects like tonality and context will be considered. This will make a very big difference to the speed of versioning."
This year, IBM's AI technology Watson was used at the Wimbledon tennis tournament to automate the tagging and assembly of two-minute highlight reels for online publication; Endemol Shine Group used a Microsoft AI to speed up production of the Spanish version of Big Brother; and the BBC experimented with AI/ML to mine its archive and help schedule content for BBC4.
However, BBC4 editor Cassian Harrison stressed in a blog: "Humans have nuance, taste and judgement. These are qualities no algorithm or machine can replace."
Discovery's Eurosport plans to use ML to produce personalised sports content but executive vice-president and managing director of digital Ralph Rivera told the IBC conference in September that the company wants to "balance the algorithm with editorial curation".
The risk is that if viewers are only served what they think they want, they will miss out on all the other content that Discovery wants subscribers to consume.
This was the year Reuters revealed that almost three-quarters of news publishers surveyed were already using AI to optimise marketing, automate fact-checking or speed up tagging and metadata.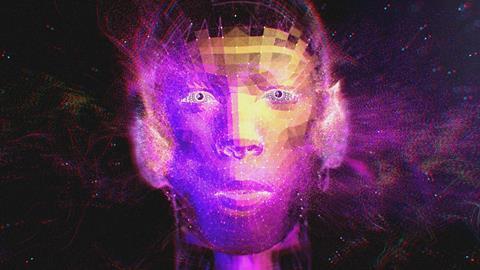 China's state press agency Xinhua took this to its logical conclusion by unveiling a 'photorealistic' AI newsreader on Chinese television (speaking Mandarin and English).
Either as an aid to composition or as an automated soundtrack generator, AI is already a force to be reckoned with in the music industry, with 'functional music' – for everything from adverts to stock music for TV – considered the prime market for AI-produced compositions.
Experimental film Zone Out, released in June, was scripted, directed and edited entirely by an AI called Benjamin, with its score generated by algorithms.
"We see AI as a tool to augment creativity," Nathan Leong, director of channel strategy at production music library Audio Network, told Broadcast in October. "But we can't ever imagine a scenario where an algorithm would replace a composer."
IP breakthrough
Two very different conversations about internet protocol (IP) are taking place. One is about IP as a means of moving signals in live production; the other concerns IP as a means of moving files. In the former, there's been significant progress in the definition of common standards and specifications.
The latter is more about the non-live environment – and particularly the consumer demand for streamed video, often on the move.
"Where they come together is that consumers are now expecting broadcast-level quality of service around streamed, mobile video," says the DPP's Harrison.
"The biggest impact of IP this year has been that broadcast and IT professionals have come together around that challenge."
"The transition to IP is a gradual one and it will take years to achieve full deployment since it's as much about transforming culture as technology change
Peter White, IABM
The finalisation of the SMPTE 2110 suite of standards in May means that every element that has been part of the traditional SDI studio can now be put into an IP studio. This has given impetus to IP technology adoption, according to IABM chief executive Peter White.
"The transition to IP is a gradual one and it will take years to achieve full deployment since it's as much about transforming culture as technology change," he says.
The EBU calls SMPTE 2110 a "promising technology" but cautions that more work needs to be done. "We're in the process of going from a standard on paper into the interoperability of equipment that needs to exist in practice," says Arcidiacono. "We probably need to look three to five years out before it goes mainstream."
The impact of SMPTE 2110 is already being felt in remote live production. Leading the way is Australia's Andrews Production Hub in Sydney, which opened in March. Fox Sports is using it to produce Aussie rules football and other sports from venues 4,000km away.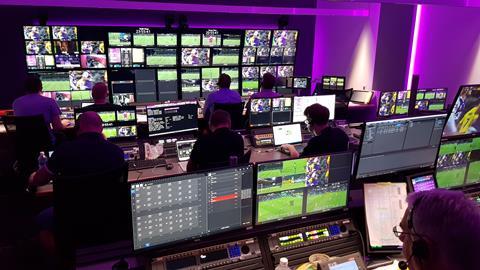 Service supplier NEP also deployed IP technologies at Wimbledon this year as a replacement for traditional SDI routers, in a system that was able to support UHD production.
While projects like these use dedicated fibre to send signals to the production centre, technical advances are opening up live remote coverage of lower-budget, second-tier events.
SRT, an open-source protocol developed by streaming specialist Haivision, goes some way towards ironing out the glitches in sending video over the public internet, a point recognised with the award of a technical Emmy.
Sony's launch of a cloud-based production switcher this year – part of its Virtual Production system – is a step towards replacing complex and typically expensive outside broadcast (OB) hardware with software apps. Since cameras are the only physical kit required, it alters the business model for OBs too, as a producer need only pay per use.
IP is also being adopted to enable virtualised playout and all the benefits this delivers in terms of channel launch agility. Red Bee Media's debut of a completely IP and software-based system in 2019, claimed as a world first, will be watched closely. The BBC is moving this way too.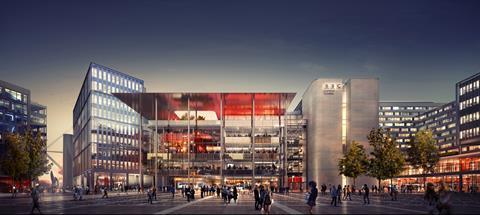 Opening in 2019, regional hub BBC Cymru Wales will be based around SMPTE 2110 and is seen as the template for the corporation's future development.
Yet the ability for millions of users to live-stream concurrently remains an issue. The rollout of Formula 1 streaming service F1 TV got off to a stuttering start in May when "live playback issues" resulted in some viewers being unable to watch the race.
And Australian telco Optus had to hand its rights to the Fifa World Cup over to free-to-air broadcaster SBS in July after subscribers reported being unable to watch games.
However, Nick Moreno, director of strategy for satellite and media at communications infrastructure company Arqiva, says: "The odd stories about streaming failures for live events are outliers.
"Though clearly serious for the rights holders involved, these are noteworthy events only because they are now relatively rare. Multiple millions of streams are delivered every day without hitch, but this doesn't make headlines."
Latency, the delay incurred when streaming live –and noticeable in contrast to the speed of satellite broadcasting – has long been an OTT bugbear but one the BBC's estimable R&D team may have cracked.
"The biggest bottleneck to streaming UHD is bandwidth to the home and the content delivery cost"
Rian Bester, Insight TV
In a prototype for which it won an award at IBC, BBC R&D showed that it could eliminate the delay by reducing the duration of each segment of video file sent over the network.
"The biggest bottleneck to streaming UHD is bandwidth to the home and the content delivery cost," says Insight's Bester. "You need the scale of Netflix to make it work, but that's rapidly changing."
In part, that's because 5G is on the horizon. Bester predicts a battle in 2019 between traditional cable and satellite providers and rival mobile network technology providers delivering premium content to consumers, as SVoD competition hots up with the arrival of Disney+.
Elsewhere, Ronen Artman, vice-president of marketing at US-based portable live video solutions acquisitions company LiveU, predicts continued growth of users streaming their real-life experiences online.
"YouTube may have begun the trend," he says, "but Twitch TV is now reaching beyond its eSports/gaming community to embrace artists, musicians, podcasters and comedians."