New Tiffen Steadicam products announced recently at NAB and Cine Gear 2019 will be on show and on demo at the forthcoming Media Production Show in London at Olympia, June 11/12.
Steadicam M-2:
A new high-end Steadicam rig from the Tiffen Company, the Steadicam M-2 is a lightweight stabilizer designed to be the most modular and integrated rig ever developed. The revolutionary Volt technology has been built directly into the top stage and gimbal for a more streamlined and compact sled.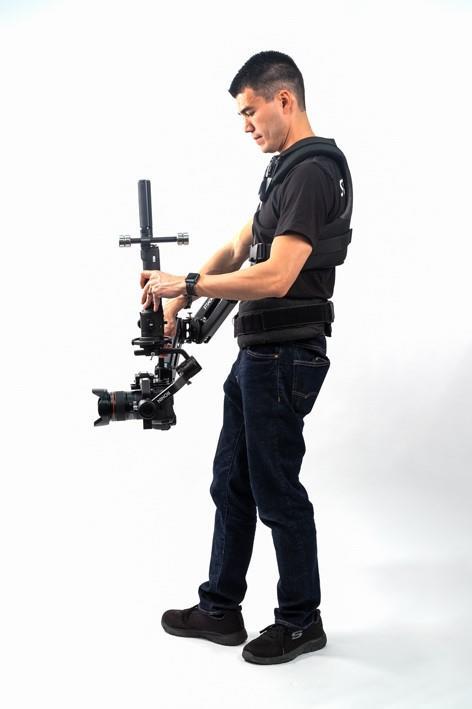 Following in the footsteps of its bigger sibling the M-1 it also incorporates a modular design that allows operators to customise their setup to suit their personal needs or for specific applications. In fact, almost all components will be interchangeable between the two systems.
New features introduced include a top stage (tilt or non-tilt) with the Volt horizon stabilizer electronics and controls integrated, a Volt-ready gimbal, and other refinements that come together to make a lightweight sled while supporting an expected load capacity of 40 lbs. (18kg). The Steadicam M-2 will begin delivery in the summer of 2019.
Steadimate-S:
The Steadicam Steadimate-S offers camera operators increased freedom, endurance, and creative opportunity when working with single-handed motorized stabilizers like the DJI Ronin-S®.
By pairing a single-handed stabilizer with a body-worn stabilizer the DJI Ronin-S can be operated for hours with minimal physical fatigue while maintaining a wide range of vertical movement and adding full manual panning ability and 'low-mode' operation.
Users can minimize or completely eliminate the bouncing image effect that often occurs when using single-handled stabilizers as the Steadimate-S provides x-axis and y-axis stabilization while the Steadicam arm provides z-axis stabilization.
The addition of the Steadimate-S easily and affordably transforms single-handed motorized gimbals into professional video stabilisation systems.
The Steadimate-S comes standard with a post block and balance pin that fits arms with 1/2" posts. The weight capacity varies depending on the single-handed stabilizer, arm, and vest being used. The Steadimate-S adapter can be purchased on its own for use with existing arms and vests, or as a complete kit available in two weight classes.
The Steadimate-S 15 System comes with the A-15 Arm and Aero Vest and offers a 15 lbs./6.8 kg weight capacity, while the Steadimate-S 30 System comes with the A-30 Arm & Zephyr Vest and boasts a 30 lbs./13.6 kg capacity.
Also highlighted at the MPS will be:
Steadicam Air- Setting a new standard for professional photographers and cinematographers, the Steadicam Air brings versatility back to the monopod.
Drone Filters – Exclusive new Tiffen Drone Filter Kits enable DJI drone operators to capture stunning in-flight imaging content like never before.
NATural ND Filters - Tiffen NATural Neutral Density Filters represent a new era of ND and IRND filtration by blocking the full spectrum of light with no colour shading to maintain creative intent.