Weta's VFX teams will continue to operate independently under WetaFX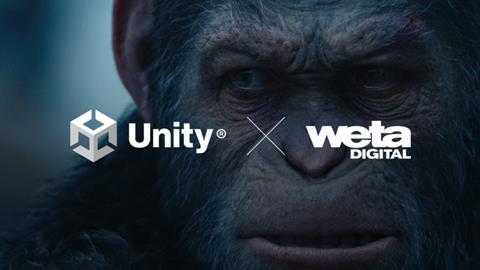 Real-time 3D content creation platform Unity has agreed a deal to acquire Weta Digital's tools, pipeline, technology, and engineering talent for $1.625 billion (£1.21bn) in cash and stock.
This includes Weta's 275 engineers, its VFX tools, a foundational data platform for interoperable 3D art creation, and its library of assets. Joe Marks, Weta chief technology officer, will join Unity as chief technology officer of Weta Digital. The deal is expected to go through at the end of Unity's fourth quarter in 2021.
The acquisition is designed to add Weta Digital's tools to theSaaS Unity cloud platform, and it will join Unity's Create Solutions focused on the continual evolution of Weta Digital's dozens of proprietary graphics and VFX tools, such as Manuka, Lumberjack, Loki, Squid, Barbershop, HighDef, CityBuilder, and more.
Meanwhile, Weta's VFX teams will continute to exist as a standalone entity, named WetaFX. WetaFX will continue under majority ownership of Sir Peter Jackson and be helmed by CEO Prem Akkaraju, and is expected to become Unity's largest customer in the media and entertainment industry.
John Riccitiello, president and chief executive officer at Unity, said: "We are thrilled to democratize these industry-leading tools and bring the genius of Sir Peter Jackson and Weta's amazing engineering talent to life for artists everywhere.
"By combining the power of Unity and Weta Digital, the tools and technology that built characters and scenes from the world's most iconic films such as Avatar, Lord of the Rings, and Wonder Woman, will enable an entirely new generation of creators to build, transform, and distribute stunning RT3D content."
Sir Peter Jackson, chairman & co-founder of Weta Digital, said: "Weta Digital's tools created unlimited possibilities for us to bring to life the worlds and creatures that originally lived in our imaginations. Together, Unity and Weta Digital can create a pathway for any artist, from any industry, to be able to leverage these incredibly creative and powerful tools. Offering aspiring creatives access to Weta Digital's technology will be nothing short of game changing and Unity is just the company to bring this vision to life."
Prem Akkaraju, CEO of Weta Digital, added: "Unity is the best at delivering world-class tools and technology to creators. Together we have the opportunity to make Weta Digital's award-winning, high-end artist pipeline and tools, which are in a class by themselves, accessible to a much broader audience of artists than what has been historically possible.
"Weta's goal has always been to inspire and motivate a whole new generation of creators and it's exciting to pass the mantle over to Unity. I see a future where more and more content shares the same level of visual fidelity as Avatar and Game of Thrones and Unity is the ideal company to lead us into this future."