Congratulations to all those honoured at this year's virtual awards ceremony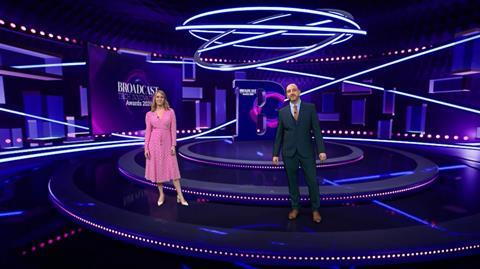 Broadcast has revealed the winners of this year's Broadcast Tech Innovation Awards.
Due to Covid restrictions, the ceremony for the awards has been transformed into a spectacular virtual event, held in a virtual studio at Dock10 (pictured above), and utilising the cutting-edge tech celebrated in the awards.
The Broadcast Tech Innovation Awards 2020 were hosted by comedian Rachel Parris and Broadcast Tech editor Jake Bickerton.
The awards are in their second year and celebrate the exceptional teams behind the most outstanding broadcast productions of the past year.
Judged by some of the industry's biggest names, the Broadcast Tech Innovation Awards 2020 are presented by Broadcast, the leading title for the broadcast industry.
The awards consist of 25 categories, split into five themes – Creative Excellence; Cloud & Media Management; Sport; Young Talent; and Standout Projects.
Broadcast Tech editor Jake Bickerton said: "Many thanks to everyone who entered the Broadcast Tech Innovation Awards 2020, and a huge congratulations to all the winners, highly commended and shortlisted projects. A big thank you also to all our judges for helping whittle down the incredible creative and technical entries, showcasing the very best of the UK's consistently impressive production, post-production and broadcast sectors, into the eventual winners.
"While we're unable to host a real-life event to celebrate the industry's achievements over the last 12 months, we hope you enjoy the brilliantly conceived virtual studio environment Dock10 has created for the Broadcast Tech Innovation Awards 2020 ceremony.
Finally, I want to thank the event organisers and all our sponsors – Dock10, Jigsaw24 and HHB Communications – who made the awards possible. We will return again for the third Broadcast Tech Innovation Awards next year when hopefully we'll all be able to meet again to celebrate as an industry together once more."
The Broadcast Tech Innovation Awards 2020 winners
Best Creative Use of AR or VR
Virtually History (Remarkable TV)
Best Creative Title Sequence
Why We Hate (Blue Spill)
Best VFX Project
Cursed (Freefolk)
Excellence in Audio Post-Production (Non-Scripted)
Formula 1: Drive to Survive (Sound Team of The Farm Group)
Excellence in Audio Post-Production (Scripted)
In My Skin (Matt Baird of Splice)
Excellence in Grading (Non-Scripted)
The World According to Jeff Goldblum (Katherine Jamieson of Halo)
Excellence in Grading (Scripted)
Devs (Asa Shoul of Warner Bros. De Lane Lea)
Innovative Use of Technology in Storytelling
Virtually History (Remarkable TV)
Technical Innovation in a News Broadcast
Sky News Remote: Life After Lockdown (Sky News)
Best OTT
Belgium OTT (ELEVEN SPORTS)
Best Use of Remote Production
SailGP (Whisper and Timeline TV)
* Highly Commended
F1: Remotely Possible (Formula One Management)
Technical Innovation in a Sports Broadcast
Sky Scope (Sky, SkyCreative, MRMC & Dimension Studios)
* Highly Commended
Match of the Day Virtual Studio (BBC Sport, AE Live & dock10)
Best Innovation in Lockdown - Product or Service
Virtual Production Tools (BBC)
Best Innovation in Lockdown - Production
Sky News Remote: Life After Lockdown (Sky News)
Best Use of AI and ML
Auto ReZone (Wildmoka)
Best Use of the Cloud for Creative Innovation
Magic of Disney's Animal Kingdom (Arrow Media)
* Highly Commended
Dubbing in Lockdown (ZOO Digital)
Excellence in Localisation For Global TV Project
Dubbing in Lockdown (ZOO Digital)
Young Talent of the Year - Broadcasting
Sean Mehmet (NEP Group)
Young Talent of the Year - Post Production
Warren Williams (Sky Production Services)
Young Talent of the Year - Production
Lily Morgan (Splice)
Sky Sports #GoZero (Sky Sports)
BBC R&D